Business & Education
COVID-19
An Innovative Response (Team)
With Steve Martin, Vice President of Global Research, Waters Corporation, Milford, MA, USA
Steve Martin | | Longer Read
sponsored by Waters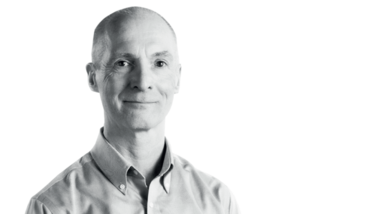 Like most of you, I was overwhelmed by a feeling of helplessness as the COVID-19 pandemic became a reality. Those who work with me know that, when we find ourselves backed into any corner, my exhortation to the team is often: "If not us, who? If not now, when?"
A rapid response

Even before the World Health Organization officially declared a pandemic, we had begun working on an action plan to support scientists racing to understand the virus and develop vaccines and treatments. Thus, the Waters COVID-19 Innovation Response Team (IRT; see more) was born. The goal: to remove the red tape and protracted discussions common to developing collaborations, by shifting to "thin" agreements that enabled direct support for researchers in the form of rapid access to critical supplies and equipment.

We were well equipped to do so, with expertise across instrumentation, chemistry and separation sciences at our disposal, as well as a global supply chain and field support. And, armed with Microsoft Teams, we were ready to support customers anywhere in the world. The dedicated IRT team rapidly grew to over 300 members supporting over 40 collaborations, in addition to providing columns and methods to more than 20 clinical laboratories. Urgency was central to the IRT's mission.
Forging friendships

The response to our outreach was immediate and overwhelmingly positive. Projects ranged from helping to develop a method for characterizing recombinant SARS-CoV-2 spike protein glycans to providing analytical columns and LC and MS methods to help clinical researchers accelerate critical assay development for the DISCOVERY clinical trial. The Waters IRT has also contributed to Maarten Dhaenens' consortium at Ghent University (1), where the goal is to develop a protein-based LC-MS assay to rival qPCR approaches.

We have also collaborated with Zoltan Takats at Imperial College London, which led to the development of a rapid screening test for COVID-19 infection. Use of DESI ambient ionization technology, coupled with our MS expertise, allowed us to build and test a prototype instrument capable of analyzing a dry nasal swab in less than 30 seconds, with promising results in distinguishing infected and non-infected samples (2).

Oligonucleotide purifications and mRNA-based vaccines have also attracted interest. We have supported this work by providing early access to our new ACQUITY PREMIER columns.

Several of our collaborators will take part in a global COVID-19 symposium and panel discussion on November 18, 2020 – we hope you will join us (virtually, of course!).
Immerse Cambridge: an open innovation platform

Open innovation and engagement will be key to quelling the pandemic. Early in 2019, Waters planned an open innovation platform to put our scientists, engineers, and emerging technologies at the center of ecosystems that catalyze innovation in the life and material sciences. This concept culminated in the opening of Immerse Cambridge – an open innovation laboratory to foster collaboration and drive analytical sciences forward.

One of the first projects for Immerse Cambridge is investigating the glycan structures of influenza, which change over time and enable immune system evasion, with Joe Zaia of Boston University. This work will use a Waters SELECT SERIES Cylic IMS System (http://www.waters.com/cyclicims), which is uniquely capable of revealing fundamental viral features and guiding vaccine design strategies.
Looking ahead

The pandemic has united researchers, removing geographic boundaries and energizing the Waters IRT team with exciting new partnerships. Building on all that we have learned during the pandemic, we aim to confront analytical challenges with urgency and innovation. I am proud of the foundational role analytical science has played thus far and I'm humbled by how much more needs to be done. As a community, we are collectively demonstrating a great way forward.

If not us, who?
Receive content, products, events as well as relevant industry updates from The Analytical Scientist and its sponsors.
Maarten Dhaenens, "Mass Spec COVID Check," The Analytical Scientist (2020). Available at: https://bit.ly/2G5R7UN

L Ford et al., "Rapid detection of SARS-CoV2 by ambient mass spectrometry techniques," medRxiv – Infectious Diseases [This article is a preprint and has not yet been peer-reviewed] (2020). Available at: https://doi.org/10.1101/2020.10.07.20207647