Business & Education
COVID-19
Embracing the Silver Linings
With Maria Dullaert, Total Support Manager and Applications Engineer, Ocean Insight, Duiven, the Netherlands; Yvette Mattley, Lab Services Manager; Amy Bauer, Principal Applications Scientist; and Derek Guenther, Senior Application Scientist, Ocean Insight, Largo, Florida, USA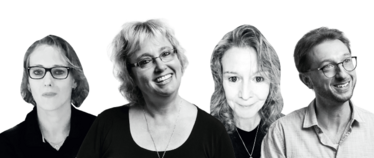 How have you – and the community – adapted to working in 2020?

Amy: I'd been employed by Ocean Insight for six weeks or so before I was quarantined. I began working from my home in Minnesota as a result. Out of the lab, I find myself guiding others – largely by conducting data analysis and helping with business development. I am very fond of the people I'm working with, but also intensely jealous of their continued involvement in delicious measurements and hardware development.

Yvette: Scientists and researchers are very resilient – it's an essential quality in their line of work. As the pandemic swept the globe, researchers found themselves unable to access their labs (like Amy!), but knew their research must continue.

The stories of researchers finding new ways to conduct their work remotely has been an inspiration. Dining room tables, kitchens, and backyards became makeshift labs – and family members became research assistants. These remote research efforts were enabled by the availability of compact, portable instruments; the ability to make measurements anywhere and everywhere has never been more important.
Operating a remote lab sounds like no small feat.

Yvette: Remote working requires careful planning to ensure everything that might be needed is available. It's not like we can run to the lab down the hall to collect any missing equipment. As wonderful as our home labs are, they can never be as well-equipped as their traditional counterparts, of course. We only hope that the intense preparation involved in remote lab setup means the results are just as robust as they might have been otherwise – if not more so!
And what other challenges have you faced?

Maria: Working from home has been a challenge in its own respect. Maintaining momentum can be difficult, but the real problem is remembering to take a rest because, in a way, we are always at work.

Derek: We've also been hit with a huge demand when it comes to our Lab Services Team. We have been working hard to keep up with this demand – especially at the start of the pandemic, when many labs in California and the northeastern US experienced total shutdowns. Scientists couldn't continue with their work, but our team could act as their eyes and hands in the lab.

The increase in volume and frequent push for rapid turnarounds was a unique yet welcome challenge. Organizational tools like Microsoft Teams helped to manage all the juggling we've had to do – and, along with some extra hours, kept things moving smoothly! We're incredibly excited to help researchers take their next steps in their work, even when they don't have typical access to their labs and equipment.
Have you achieved anything you're particularly proud of amidst the madness?

Derek: Ocean Insight has been working with several teams developing rapid COVID-19 tests for the general public. It's an honor to be tightly connected to groups fighting to bring normalcy back to the world. It's also amazing to note that these groups will use different optical approaches to get to the same answer – and Ocean Insight technologies can accommodate and evolve to support these optical methods.

From rapid PCR using trace-level fluorescence to direct detection using SERS, these teams are improving testing times, giving results in just minutes – and, ultimately, seconds. All this effort will facilitate public screening in real time at key loci like airports, schools, and nursing homes. Rapid detection will be critical in reducing numbers and returning to our normal lives. Ocean Insight is very proud to be a part of that groundbreaking process.

Yvette: The continuation of research under these trying and unprecedented conditions is such an accomplishment. As we rush to understand the SARS-CoV-2 virus and develop rapid screening tests and vaccines, research must continue. The innovative approaches to continuing this research that our teams have come up with have been outstanding.
In hindsight, what advice would you have given yourself at the start of 2020?

Maria: Hang in there and do what you can!

Yvette: Think outside the box. Be innovative. Don't despair. Focus on the silver linings and keep researching.

Derek: Invest in toilet paper.

Amy: I'm with Derek – start hoarding toilet paper ASAP!
Receive content, products, events as well as relevant industry updates from The Analytical Scientist and its sponsors.