Fields & Applications
Clinical,
Sample Preparation,
COVID-19
A Lollipop a Day…
How a sweet-looking saliva collection system could replace traditional throat swabs
Markella Loi | | 2 min read | News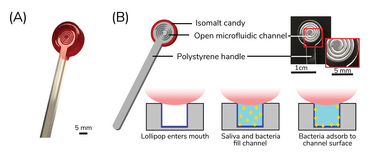 At-home testing became a necessary and routine aspect of the COVID-19 pandemic, but many people – especially children – experience discomfort and difficulty performing these tests. And let's face it, no one likes swabbing the back of their own throat. Now, researchers from The University of Washington have developed a more enticing, saliva sampling device called CandyCollect, which is similar to a lollipop (1).

"As parents, we struggled getting our children to cooperate with sample collections or medical procedures in general," says corresponding author Ashleigh B. Theberge. "We also know that most children like lollipops, so instead of fighting their nature, we leverage a lollipop design to encourage children's compliance."

CandyCollect is a device made from sugar-free candy (isomalt) and a plastic structure, replicating the appearance of a lollipop. The researchers incorporated a spiral groove into the plastic stick to allow accumulation of microorganisms, like Streptococcus mutans and Staphylococcus aureus, a feature simultaneously preventing scraping by the tongue.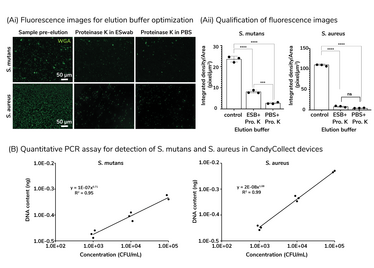 When compared with regular commercial oral swabs, the candy collection kit successfully and efficiently detected the target bacteria in 100 percent of the participants who previously tested positive on the conventional swabs. "We successfully optimized the elution process and qPCR protocol for obtaining similar results from the traditional sample collection methods," says Sanitta Thongpang – another corresponding author on the study. "The eluting solution has to remove most of the captured pathogens off the CandyCollect while minimally interfering with the qPCR sample processing. We tested several elution solutions and selected carefully until we achieved our goals."

The study participants were asked about their preferences for different sampling devices and methods; 65 percent of participants labeled the lollipop-based device as "the best method of saliva collection." Perhaps more importantly, 87 percent said it was the "least disgusting and uncomfortable."

"These results demonstrate that CandyCollect – as a saliva collection device that is simple to fabricate, easy to use, and sufficiently sensitive for the detection of common respiratory diseases – has great potential for at-home or clinic saliva collection in humans, especially in children," says Thongpang, adding that easy access to diagnosis plus early treatment can reduce disease severity and complications.

What's more, say the researchers, at-home and patient-centric diagnosis using remote collection systems like CandyCollect could facilitate decentralized clinical trials in the pharmaceutical industry.

Credit: The Analytical Scientist
Receive content, products, events as well as relevant industry updates from The Analytical Scientist and its sponsors.
WC Tu et al., ACS Publications, 95, 27 (2023). DOI: doi.org/10.1021/acs.analchem.3c00462