Fields & Applications
Environmental
An Outsider's Perspective
Take it from a glaciologist: We need analytical scientists to come together and work with us to solve the biggest challenges facing the environment today
Peter Kuipers Munneke | | Opinion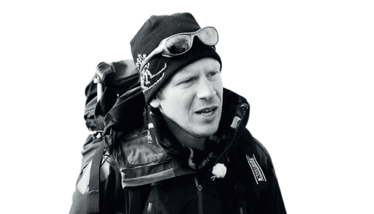 Why am I – a meteorologist, glaciologist and TV weatherman – giving a talk in front of an audience of analytical scientists at EuroFAST? It's a good question. And, naturally, I had my own doubts when I first received the invitation! But I believe the notion that scientists from different disciplines – even different niches within the same discipline – should stay in their lanes and remain siloed prevents the cross pollination of ideas needed to solve some of the biggest issues facing humanity today.

In the environmental sciences, such as climate science, we rely heavily on the work of analytical scientists. I've worked with spectroscopists, chromatographers, and mass spectrometrists in the past, and, for us, the divisions between these various techniques aren't important because we use different approaches as tools to solve specific problems to produce a holistic understanding of the climate. In fact, experts working in niche areas often aren't fully aware of the full scope of opportunities available to analytical scientists in the environmental sphere. Let me give a few examples, focusing on the past, present, and future of the climate – all of which are crucial to understanding the environment as a whole.

The Greenland Ice Sheet is key to our understanding of climate history. When you drill into the ice, you encounter older and older layers, which contain water molecules with various isotopes of hydrogen and oxygen. The prevalence of these isotopes gives a proxy of the mean Earthly temperature over time. In addition, the ice contains air bubbles – archives of the ancient atmosphere, which we can measure to determine their chemical composition. This combination of mean temperature and the chemical composition of the atmosphere over time allows us to understand the correlation between, for example, greenhouse gasses in the atmosphere and global mean temperature – information that has been pivotal for our understanding of climate change.

Analytical scientists can also study the isotopic trace elements and trace gasses that are produced as a result of biological activity in the region, helping us to understand how mean temperature and other atmospheric chemicals correlate with the survival of living creatures. Of course, the more sensitive the analytical techniques become, the more we can learn. And the more portable and easy-to-use the instruments are, more of these kinds of studies become possible. Did you know we have ice cores stored away for when new analytical techniques are developed – or new research avenues discovered? One key example, though unrelated to ice cores, is the relatively recent discovery that black carbon is a proxy for forest fire activity, which was accompanied with the development of techniques sensitive enough to detect it at low concentrations.

To understand the present, we need analytical scientists to monitor and observe (by means of remote sensors) pollution, toxic waste, and so on. Such measures are going to become increasingly important as countries continue to set mutually agreed international standards and goals for emissions reductions. Analytical scientists will have to play a key role in building an international system of environmental checks and balances to ensure all parties are sticking to what they've agreed.

Looking to the future, we will need to build a circular economy. And that means moving away from our reliance on fossil fuels, which is a one-way process (you burn it and it's gone), and towards other raw materials (such as rare-Earth metals and hydrogen) as part of an artificial cycle. For this to work, we'll need to monitor and measure how this is impacting the planet – both positively and negatively. We'll also need to develop new ways of storing energy, and new processes, such as artificial photosynthesis, all of which will require the input of analytical scientists.

I believe we'll need close collaboration between the analytical scientists developing the tools and applying them in new and interesting areas, and the environmental scientists creating an overall picture of the environment helping to identify the big-picture targets we all need to focus our energies on.

I'm also confident that analytical scientists who may be working on similar problems from different angles all need to be speaking with each other – an aim shared by the EuroFAST organizers. I've seen the way this can work in my own field of glaciology. In the Netherlands, the glaciological community is too small for a national symposium – we could all fit inside a classroom. The same can be said of many other environmental niches. Instead, we have an annual polar symposium, open to anyone studying anything to do with the polar region. That includes ornithologists specializing in birds from the Arctic, oceanographers studying ocean circulation in the region, and many more niche and seemingly only tangentially related disciplines. And guess what: Many cross-discipline collaborations come out of these meetings.

I've seen the polar oceanographers get together with marine biologists to understand the relationship between the currents and the marine life. There was another collaboration between a team of glaciologists and biologists to understand how the biological activity off the coast of Antarctica was linked to increased glacier melt runoff into the ocean. These were both totally unexpected and a result of bringing together people who wouldn't normally interact.

I hope conferences such as EuroFAST, which segregate the field by application area rather than technique, will produce similar results for the field of analytical science; not just for the community's sake, but for the sake of the environment – which will need the help of analytical scientists of all stripes.
Receive content, products, events as well as relevant industry updates from The Analytical Scientist and its sponsors.