Fields & Applications
Capillary Electrophoresis
Critter Colony Chemistry
Ant brains aren't the easiest subject to probe, but capillary electrophoresis may lead the way in studies of bug behavior
Matt Hallam | | Quick Read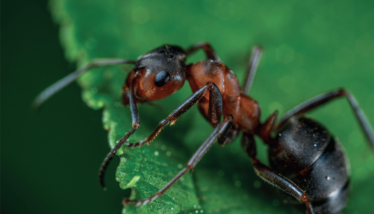 Colony-specific behaviors of red forager ants (Pogonomyrmex barbatus) indicate potential neurological differences. Testing this hypothesis, Jill Venton and colleagues literally picked the brains of ants from nine wild colonies, extracting them and separating the contained amines by capillary electrophoresis (CE) coupled with fast-scan cyclic voltammetry.
Venton highlighted the strength of CE when it comes to detecting trace concentrations of analyte – "Perfect for ant brains," in her words. But the research was not without its difficulties. "The greatest technical challenge was aligning the electrode with the capillary and preparing samples from such small brains," says Venton.

Low detection limits were achieved for dopamine, octopamine, serotonin and tyramine – with dopamine present in the highest concentrations. The outcome: less amine variation was apparent within colonies than between them, suggesting environmental influences on neurotransmitter content in ants.

Next? Venton says, "Correlation of ant behavior in response to food and environmental conditions with their brain chemistry."
Receive content, products, events as well as relevant industry updates from The Analytical Scientist and its sponsors.