Fields & Applications
Metabolomics & Lipidomics,
Technology,
Proteomics
Directing the Future
Sitting Down With... Emily Hilder, Director, Future Industries Institute (FII), University of South Australia, Adelaide, Australia.
Rich Whitworth |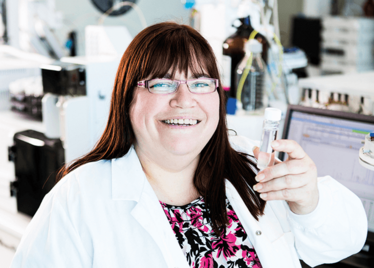 How did you get into science?
It's always been about natural curiosity for me. My family loves telling the story of my fifth birthday party; I spent a good deal of it training my guests how to take the wheel off a bike – in a party dress. I like to learn how things work. And I was also lucky – my primary school teachers were science trained. I remember us launching a giant brown paper hot air balloon from the school and then collecting it from someone's yard a few suburbs away. We worked out its journey based on the weather and Galileo's original models. I also had enthusiastic science teachers at high school.
And analytical chemistry?
When it was time for university, I believed that science would allow me to move into a whole bunch of different careers and I knew that I liked chemistry. But I remember telling one lecturer that I would never do analytical chemistry again – it seemed boring and irrelevant. Later, in a mainstream chemistry class, a professor came in and started talking about chromatography with an enthusiasm I'd never seen before. It was Paul Haddad. I realized that it wasn't just about the science, it was about the people – and all the connections that come together to bring it alive.
Congratulations on your fourth appearance on The Power List...
I'm really proud to have been included each time – in part because it's been exciting to be part of The Analytical Scientist's journey from the beginning. I was surprised by my presence on the first Power List – as were a few other colleagues... The list may not be objective (influence is hard to measure), but it's done a lot to get people thinking about what's going on in the field and who's active. The controversy is all part of it. Interestingly enough, being on the Top 40 Under 40 list has resulted in more positive recognition – perhaps because we're all excited about profiling where the field is going. It's also great to see a list profiling only women, which makes us all consider gender diversity more carefully. I believe that diversity is critical to high performance and something to be celebrated.
The Power List may not be definitive, but it's certainly predictive; how have you risen through the ranks so quickly?
I think it's important to be aware of the bigger picture; one of my strengths is seeing connections between seemingly unrelated concepts. I also think it is important to actively listen out for problems that you can help solve with creativity. These days 'disruptive' is a buzzword, but not all solutions need to be disruptive – sometimes, articulating the real value in what you are doing is good enough to help you progress. Whether in the academic world or out in industry, we can't pretend that the economics of what we're doing isn't important; we've all got to figure out how we can make the most of the world's resources.
What sparked your move to the FII?
Aside from the personal challenge (and I do love a challenge), I could see great potential in bringing truly interdisciplinary teams together to tackle some of the modern world's grand challenges – many of which cannot be solved by a single discipline. And I was also really motivated by the focus on being led by industry. It's a beautiful mix of collaboration and pragmatism. The real world doesn't respect discipline boundaries.
Doesn't that define modern analytical science?
Yes – that's one of the fantastic things about where the analytical sciences are going. However, I actually think this has been the case throughout history. We have always needed to be able to measure things to understand them and then explain them. Consider the invention of partition chromatography; it came from biochemists – not analytical chemists – and was driven by the need to tackle complex biological separations. There is a beautiful quote in Richard Synge's Nobel lecture where he states that partition chromatography is "to the biochemist something akin to what the microscope gave to earlier biologists." He knew then that it was a tool that would open the door to many other discoveries.
The younger me certainly didn't appreciate the versatility that would come with being trained as an analytical chemist.
Does the tool-generating aspect of analytical science put the field at risk?
I would say that it makes the field all the more significant! If anything it's just an identity crisis. What is it called? How does it exist as a field? I've had conversations all over the world about it. To some extent, the 'crisis' stems from the maturity of some techniques and the incredible relevance of the problems that the field is addressing. In reality, the need to develop new measurement tools is not going away, quite the contrary. How can we measure tiny quantities, in real time, in complex biological systems? It's incredibly challenging, but if we can develop the right tools, a whole new world of opportunities opens up in terms of what we can understand about the world around us. How is that not actually exciting?
Your role is quite a testament to the change that's going on in the field...
The younger me certainly didn't appreciate the versatility that would come with being trained as an analytical chemist – or the impact that analytical science would have in general. My institute works across an incredible breadth – from mining through to basic biology – so at first glance, it doesn't seem to be the kind of place where you would have an analytical chemist at the helm. And yet, my groups have always crossed almost every aspect of what's possible in the institute. It's ironic really – the field is more relevant than ever, but also suffering in terms of unique identity more than ever... However, we need to ensure that training of the fundamental principles does not disappear in an avalanche of applications. If you get the fundamentals right, they can be applied to any field or problem.
Where is the FII heading? 
We're really just at the beginning of our journey, but we just secured funding from the state government for the Future Industries Accelerator Program. Over the next three years AUS $7.5m will support projects with industry, allow access to our equipment and infrastructure, and drive R&D projects. Breaking down the barriers between academia and industry can drive the economy in new ways, and is the deeper reasoning behind the fund.
What are your goals over the next few years?
I'm very excited about the coming years and what we can achieve. In the near future, we'll be able to share a couple of stories that illustrate how the FII is already starting to drive real change and transformation in different industries. Personally, I've still got a lot of research going on and I'm still with ASTech (as Deputy Director), where we're starting to see the first commercial applications come to fruition. I'm also involved in a new research hub around portable diagnostic technologies. Miniaturized and portable analytical tools are a clear trend.
What advice can you offer others?
First, don't be afraid to take risks, because things are generally less risky than your mind is telling you. And second, never immediately discount an opportunity just because it seems like it's outside your area of expertise. Those who tend to have the greatest impact with the most creative solutions often work at the boundaries of their expertise or apply their knowledge in a new field. If people are willing to throw themselves out of their comfort zones – even just a little bit – you start to see real breakthroughs.
What's your underlying motivation?
Someone once described me as ruthlessly pragmatic. I guess that's because I really care about doing something meaningful. I'm not particularly driven by personal recognition (although it can be nice), but I'm deeply motivated by being able to create an environment where other people can succeed outside of their own expectations. In my family, academic achievement is no more important than any other; my father would simply say, "whatever you do, be passionate about it, be good at it, and make sure it's something useful."
Where is analytical science heading?
The really big and exciting challenge at the moment lies in developing tools for real-time measurements in situ – it's a game changer for understanding complex systems, particularly in the biological arena. It's also extremely challenging, because we often need to measure very small quantities of analytes in places that are not amenable to sampling. What we've been able to achieve over the last 10 or 20 years has already been phenomenal, but right now, we tend to measure what we can measure rather than what we need to. The opportunity to translate some of that knowledge into highly-sensitive, real-time measurements is going to have a huge impact across a whole range of fields. And it won't be easy...
So the role of analytical scientists is still very much secure...
I think we're going to be very relevant for a very long time! Don't forget that until we develop new measurement tools, we don't even realize what we couldn't see before. And when we suddenly gain new information, it allows us to start asking questions we'd not previously thought to ask – that's where breakthrough science exists.
Receive content, products, events as well as relevant industry updates from The Analytical Scientist and its sponsors.