Fields & Applications
Spectroscopy,
Materials
Handheld FTIR spectrometers have proven capable of measuring thermal damage in various carbon fiber composites used in modern aerospace applications. In this case, Boeing used a handheld FTIR (Agilent 4300) to support a partner company that manufactures and supplies large composite parts after a thermal exposure incident occurred during a routine composite repair.

According to Paul Vahey, an analytical chemist at Boeing, "A faulty heat blanket subjected a portion of a large composite part to substantial excess heat. Based on a visual inspection alone a hole would have been cut through the part to remove all the affected composite material. Though the large part was worth several hundred thousand dollars, it would have been scrapped because a through-thickness patch would have been unacceptable to the airline customer."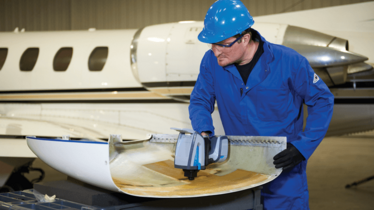 The solution was to use handheld FTIR directly at the site to evaluate the composite material on both the inner and outer surfaces. Vahey explains, "While effects of heating were visible on both sides, objective information from the FTIR indicated the resin was not weakened in the discolored back side of the heated area. By scarfing one layer at a time and measuring the underlying layer, it was necessary to remove less than half of the plies under the runaway heat blanket. Non-destructive FTIR data was confirmed by thermal analysis, such as glass transition temperature and differential scanning calorimetry."
Composites are now replacing metal components in other industries too, such as sports cars, motor racing, and boating. These booming composite applications demand more refined diagnostic tools to detect problems and confirm the chemical integrity of the material. Handheld FTIR instruments, like the one used by Boeing, are optimized for such tasks and provide the capability of at-site, non-destructive measurements, enabling users to make real-time decisions about quality, performance, damage and degradation.
Vahey says handheld technology provides several benefits. "One important advantage of FTIR was the immediate availability of the data, which allowed the repair to move forward. The portable nature of the handheld FTIR also allowed us to respond quickly, especially as the facility did not have on-site spectroscopy equipment. Indeed, FTIR provided objective data for the engineering department to base decisions upon, instead of making educated guesses on visual information alone. If we had to wait for thermal analysis of each layer, the repair process would have required days for the analysis, instead of hours. In the end, we saved time and money by not scrapping a large composite part that would have added substantial amount of flow time, labor, and materials to replace."
Receive content, products, events as well as relevant industry updates from The Analytical Scientist and its sponsors.