Fields & Applications
Clinical
Gone Fishing
A magnetic wire inserted into a vein captures circulating tumor cells and cell-free tumor DNA
Sanjiv "Sam" Gambhir |
Blood biomarkers for cancer are often present only in low concentrations. But how can you interrogate the entire contents of an adult's circulatory system? Sanjiv "Sam" Gambhir and his colleagues at the Canary Center at Stanford for Cancer Early Detection have developed a unique approach: an injection of magnetic nanoparticles designed to bind circulating tumor cells, combined with a thin, magnetic wire that captures them directly from the vein.
What prompted you to investigate in vivo tumor cell retrieval?
We were trying to develop a strategy that goes after rare biomarkers (such as circulating tumor cells or cell-free tumor DNA) in blood. When shed by small tumors, these markers are rare – and that poses a diagnostic and monitoring problem. To capture them, we needed a strategy to sample the entire blood volume. If you remove a few vials at about 7 mL of blood each, you may get lucky and spot rare biomarkers – but you won't see much of them. We needed a way to sample the entire five-liter blood volume of an adult. That's why we came up with inserting a magnetic wire into the patient and leaving it in for about 20 minutes to collect rare biomarkers.
What inspired this magnetic "cancer cell catcher?"
I knew that we needed a totally new approach to find biomarkers that are present at very low concentrations (if at all). I originally thought we might need an external magnet to make the idea work, but we ended up being able to do it with tiny 1 mm magnets strung together to form a 60 mm magnetic wire.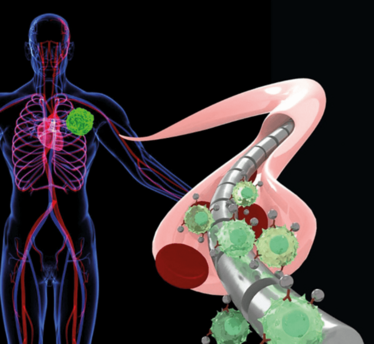 How would the new technique fit into the clinic?
Initially, I expect it to be useful in patients at high risk of cancer, who are tested every six to 12 months for rare biomarkers so that disease can be spotted early. It could also be used to remove circulating tumor cells from blood to reduce the likelihood of metastasis, or in non-cancer applications such as capturing bacteria in the blood.
The technique won't be much more expensive than a standard blood draw, but the injection of magnetic nanoparticles will increase the cost. It will also require the wire to be left in for 20 minutes and then withdrawn, which may be stressful for the patient – although hopefully less so than the risk of cancer.
What's next for your lab?
We continue to work on novel strategies for the early detection of cancer. Right now, we are working on a "smart toilet" to routinely sample biomarkers in stool and urine. We are also working on the molecular imaging of cancer so that, after a biomarker test reveals that a patient may have early disease, we can detect its location in the body.
Receive content, products, events as well as relevant industry updates from The Analytical Scientist and its sponsors.
O Vermesh et al., "An intravascular magnetic wire for the high-throughput retrieval of circulating tumour cells in vivo", Nat Biomed Eng 2, 696–705 (2018).