Fields & Applications
Food, Beverage & Agriculture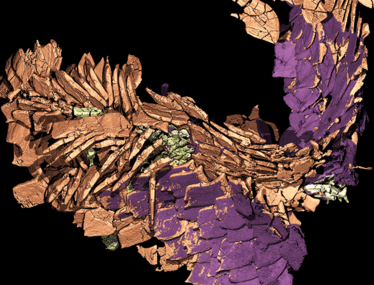 Looking Out for Number Two
Those of a delicate constitution, put down your lunch: you're looking at fossil feces. Known as coprolites, these fossilized food remains can provide insights into "ancient trophic relations" (1) – prehistoric food chains. Using propagation phase-contrast synchrotron microtomography (PPC-SRμCT), researchers from France and Sweden segmented coprolites into 3D models, and discovered 230-million-year-old remains of articulated fish scales and lepidotrichia (segmented fin rays) in what is thought to be the fossilized droppings of a lungfish.
Reference: M Qvarnström et al., "Synchrotron phase-contrast microtomography of coprolites generates novel palaeobiological data", Scientific Reports, 7 (2017).
Would you like your photo featured in Image of the Month? Send it to [email protected]
Receive content, products, events as well as relevant industry updates from The Analytical Scientist and its sponsors.