Fields & Applications
Sensors,
Forensics
LEGO claims: "You can build anything." And now, an international team from the US and China are testing that motto to the limit. The researchers have housed a sensor in a box made of the toy bricks, in an attempt to create an improved (and portable) nerve agent detector.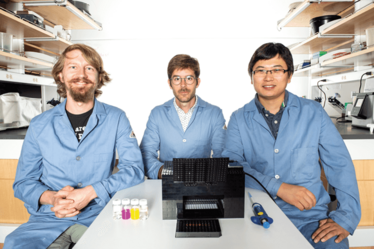 Nerve agents are very much on the map since the Novichok 'outbreak' in Wiltshire, UK. The fact they are highly toxic, yet odorless and colorless, makes them a particularly formidable foe – requiring sensitive instrumentation to detect. Current detection methods, such as UV/Vis-, fluorescence spectroscopy or circular dichroism spectropolarimetry, tend to be costly and difficult to transport.
This detector's modest exterior belies the sophistication within; by combining a smartphone, digital photography and fluoride/thiol self-propagating protocols for fluorometric signal amplification, the researchers were able to determine analytes at levels comparable with more traditional techniques. Both easy to construct and to reconfigure, the LEGO exterior can also be dismantled for easy transportation – and costs a lot less than a 3D printed device. Just don't step on it with bare feet…
Receive content, products, events as well as relevant industry updates from The Analytical Scientist and its sponsors.
X Sun et al., "Photography coupled with self-propagating chemical cascades: differentiation and quantitation of G- and V-nerve agent mimics via chromaticity", ACS Cent Sci, [epub ahead of print] (2018).