Fields & Applications
Environmental,
Food, Beverage & Agriculture
Water, Water Everywhere
Determination of H2O may be ubiquitous and appear relatively straightforward but, with increasingly strict regulations and the constant drive towards more accurate measurements, how confident are you in your results?
Michael Jeitziner |
sponsored by Honeywell
In the summer of 2017, we surveyed readers about trends and challenges in water determination. Here, we share the results – and interview Honeywell's Michael Jeitziner for expert commentary.
The majority of survey respondents (86 percent) said that accurate measurement of water in their samples was very important or important (see Figure 1)...
Accuracy is an analytical cornerstone, so this is in no way surprising. The development of the Hydranal™ range for Karl Fischer titration has always focused heavily on improving accuracy. To that end, Honeywell Research Chemicals recently became the first commercial supplier of certified reference materials (CRMs) for Karl Fischer titration to gain so-called Double Accreditation, meaning that the new generation of standards is produced and certified under ISO Guide 34 in addition to ISO/IEC 17025. Double accreditation means not only that researchers can comply with the strictest regulatory requirements, but also that they gain access to highly accurate results. Our decision to move to CRMs is reflected by the needs and demands of our users – two thirds of survey respondents need (32 percent) or prefer (34 percent) CRMs for Karl Fischer titration (see Figure 2).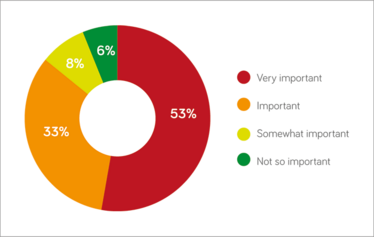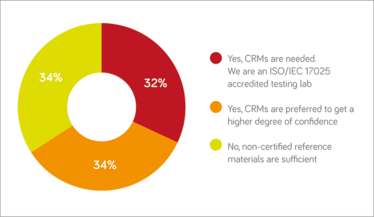 Two thirds of survey respondents identified measurement reliability as a major challenge in water determination. Is this surprising?
I think reliability goes hand in hand with accuracy. And certainly, the boost in quality gained by the use of CRMs helps with reliability of results. But I would also point to the need for regular calibration – as with any measurement – to ensure that variance is kept to a minimum.
I note one survey respondent who indicates that they use homemade Karl Fischer reagents. And though that may save money (but not time), accuracy and reliability would be seriously questionable! I can say, without bias, that it's a bad idea. But I suspect they were also one of the few people to select that an accurate measurement is "Not so important"!
Over two thirds of survey respondents (69 percent) require application or technical support (see Figure 3). How does Honeywell bridge the knowledge gap?
At Honeywell, we consider technical and application support to be key differentiators – and that's because, once again, we want to meet the demands of our customers, as reflected in the survey results. We have an application laboratory that has produced over 700 reports covering a wide range of requests from customers, and covering diverse sample types. And our dedicated application chemist will continue to drive that number higher. Unusually, our customers can contact our laboratory with technical or application questions directly, rather than going through a general technical service department – and that means users receive advice directly from seasoned Karl Fischer experts.
We also hold open Karl Fischer seminars (and webinars) as well as onsite seminars for companies to build skills in water determination.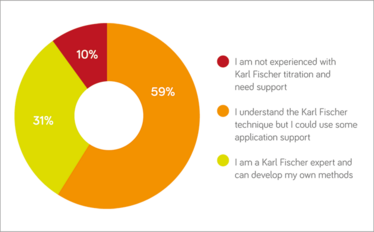 The majority of survey respondents were from the pharma (39 percent), chemical (16 percent), and food & beverage (13 percent) industries, but a diverse range of market areas – from aerosol packaging to fertilizers to petrochemicals – were represented. What market trends have you noticed over the last 15 years?
It's not surprising that Karl Fischer titration has great utility across many different markets (a fact that's reflected in our Hydranal user data) – after all, as the title suggests, water is everywhere! It's also not surprising that the pharmaceutical industry tops the survey results, driven as it is by extensive regulation (once again, this is reflected in Hydranal use). In terms of trends, regulations have notably become stricter across the globe, and that has driven the need for more accurate analysis – especially in the pharma industry, but also elsewhere. In the food industry, quality is the main driver; water content affects the physical properties of products (the melting point of chocolate or the solubility of instant coffee, for example) and, therefore, product consistency, and it also has an impact on microbiological stability.
Another trend that we've noticed across the board is the demand for safer reagents – and 60 percent of survey respondents considered it an important element of a comprehensive Karl Fischer titration solution. We've always considered safety – both from an environmental and laboratory point of view – a high priority, and we continue to develop products that are less toxic.
Finally, what, in your opinion, are the three most important considerations when it comes to Karl Fischer titration?
First, choose a high quality product – it is the route to faster titration, higher lot-to-lot consistency, and lower toxicity or improved safety. Second, look for a company that offers a complete solution to ensure that quality exists across all reagents and standards. Third, don't forget that you may need application or technical support – something that really stands out in the survey results.
Honeywell's Hydranal
Michael Jeitziner – with a degree in physical and analytical chemistry – has been responsible for Hydranal in various functions for the last 15 years, first as a senior product manager at Sigma-Aldrich and latterly as global marketing manager at Sigma-Aldrich and Honeywell.
Jeitziner says, "I now oversee the Hydranal team in our Center of Excellence laboratory, so I'm still closely following the Hydranal story!"
For those unaware of the acquisition landscape of the past few years (though it was news that was difficult to miss at the time), Merck KGaA completed its $17 billion acquisition of Sigma-Aldrich in November 2015. Approval from the European Commission came with a number of antitrust caveats. "The acquisition was only approved on the basis that part of Sigma-Aldrich's business (inorganics and solvents) was sold, including a number of brands and trademarks. In short, Hydranal – the first second-generation Karl Fischer solution – is now brought to you by Honeywell," concludes Jeitziner, putting an end to any confusion. He is also keen to point out that the entire Hydranal team, including quality control and application chemists – with all their extensive expertise – moved across to Honeywell along with the product range.
Discover more about Hydranal:
www.lab-honeywell.com/products/featured-hydranal

Reach out to the Hydranal Center of Excellence team:
Receive content, products, events as well as relevant industry updates from The Analytical Scientist and its sponsors.