Marian Asantewah Nkansah
The Power List 2020 – Africa
---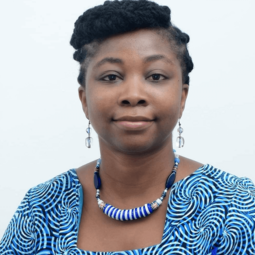 Associate Professor, Department of Chemistry, Kwame Nkrumah University of Science and Technology, Kumasi, Ghana
Greatest inspiration: My greatest scientific inspiration is Marie Skłodowska Curie. She is the embodiment of both femininity and scientific excellence. Not only did she depart from the traditional women's roles of her time, but she went on to become one of the world's most renowned scientists. To date she remains the only person to have won a Nobel Prize in two academic disciplines – namely, physics and chemistry.
Misconceptions of science in Africa: Some think that all scientists in Africa do mediocre research or lack appropriate equipment. There is also a general lack of trust in data generated in Africa; I've witnessed this myself in the time taken to review manuscripts and the comments I've received when I was studying for my PhD in Europe versus the early years following my return to Africa. Now I've established credibility in the field, I don't seem to encounter these biases as much.
Time travel destination: I'd travel to Jupiter in the far future – firstly because I love the sound of its name, secondly because of its massive nature (it could accommodate around 300 times Earth's current population), and thirdly because it is beautiful. I see a future where science has discovered ways of adapting to life on Jupiter – as well as methods to travel there more quickly. That way I could take my summer vacation from my earthly home in Kumasi in Ghana to travel to Jupiter for sightseeing and relaxation...
Advice to younger self: Follow your passion. Don't allow negative thoughts from yourself or others, your ethnicity, location, environment or gender be a limitation on what you can achieve.
---