Roy Goodacre
The Power List 2020 – Europe
---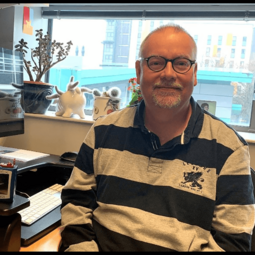 Professor of Biological Chemistry, Department of Biochemistry, University of Liverpool, UK
Reason for pursuing analytical science: It started when my parents bought me a microscope for Christmas when I was 8 years old. Though I initially wanted to be a surgeon, I realized you needed blood to stay alive, and I became fascinated by science and the workings of things I couldn't see. Later, during my spare time at school, I started using paper chromatography to separate out the different chlorophylls in grass and plants in the playground – it was amazing. I was hooked!
Dinner party guest: Harry Harrison. He was an American science fiction writer and my favorite author. I'd love to discuss with him how he came up with the Stainless Steel Rat series, which was packed full of action and humor, as well as being highly satirical. The year before I was born, he wrote Make Room! Make Room! It's a brilliant book about overpopulation and consumption of Earth's resources – and it would be fascinating to know where his prophetic ideas came from.
Time travel destination: Robert Koch was the father of modern bacteriology; Koch's postulates were initially formulated in 1884. These established the relationship between a specific microbe causing a specific disease. I was trained as a microbiologist and use Raman and IR spectroscopy as well as MS to characterize bacteria that cause disease. It would have been brilliant to observe Koch's eureka moment – one that has served microbiology so well for so long.
Advice to younger self: Try to smile a bit when you're recording those online teaching lectures and research seminars… You look too serious!
---