Techniques & Tools
Capillary Electrophoresis,
Environmental,
Mass Spectrometry
A Rare Find
Capillary electrophoresis triumphs in tracking down rare earth elements
Joanna Cummings |
Cell phones, lighting, wind turbines, military equipment… many modern technologies rely on rare earth elements (REEs). Comprising the lanthanide series plus scandium and yttrium, REEs are widely distributed in nature, but the challenge is finding sources that contain potentially useful quantities. Neutron activation and inductively coupled plasma-mass spectrometry (ICP-MS) methods have been the chief means of tracking down the elusive elements – until now. Three chemists from St Petersburg State University in Russia have developed an alternative for detecting and analyzing REEs more quickly, more cheaply and with good sensitivity: capillary electrophoresis (CE; Capel-105, Lumex) with UV detection (UV mini-1240 spectrophotometer, Shimadzu) (1).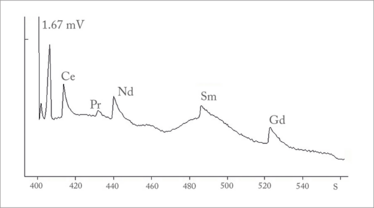 "The greatest difficulty is usually the detection of ultra-microconcentrations of REE against the background of interfering components," explains Vitaly Nikonorov, a co-author of the related paper. "We discovered that co-precipitation of lanthanides with certain elements in the presence of polymeric carriers was the most efficient way to overcome these difficulties." Indeed, the team's optimized CE method was able to deliver detection limits ranging from 0.2 to 0.7 μg/L – much lower than achieved in previous research.
Nikonorov says the results help to disprove common misconceptions about the capabilities of CE. "Analytical scientists know that is much easier to develop a method than to adapt it to a real-world objective," he says. "It is often assumed that CE displays insufficient sensitivity for the determination of very low content of lanthanides in soils and waters, but it has proven itself to be quite competitive – demonstrating that reliable, responsible analytical practice should never be based on a single technique – however effective it may be."
Receive content, products, events as well as relevant industry updates from The Analytical Scientist and its sponsors.
E Kratii et al, "Optimization of capillary electrophoresis method for the determination of rare earth elements in soils and natural waters", Microchem J, 130, 198-204 (2017).