Techniques & Tools
Liquid Chromatography,
Pharma & Biopharma,
Sample Preparation
Breaking Down the Complex Characterization Barrier
Polymeric drug delivery systems have enormous potential for personalized medicine, but their complexity and heterogeneity create real characterization challenges. Fortunately, there are analytical solutions available that enable developers to deliver – quite literally – for patients.
Sam Dylan Moré | | 6 min read | Opinion
sponsored by Tosoh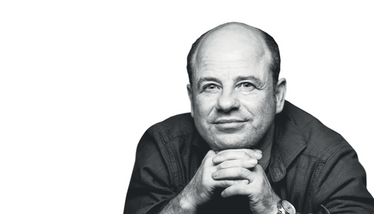 A drug's therapeutic potential depends on its bioavailability, which can be limited by low solubility, poor biodistribution, and rapid clearance from the body. Put simply, a drug must go where it's supposed to go and stay there long enough to elicit the desired effect.
Polymeric drug delivery systems use biocompatible polymers to enable targeted and controlled release of a wide range of encapsulated drugs. They can overcome or prevent passage through different biological barriers, reaching previously inaccessible sites to expand treatment options or reducing side effects – or both.
For the past 10 years, DendroPharm – the company I founded – has been developing novel nanomaterials for drug delivery systems. We produce them under GMP conditions for clinical trials and for customers. We have two main polymeric drug delivery systems. The first uses amphiphilic dendritic core-multishellnanocarriers to deliver drugs through the skin. They have a polar core surrounded by an inner nonpolar shell, which, in turn, is in contact with a polar outer shell. This structure gives the nanocarrier its amphiphilic character, which allows the transport of both lipophilic and hydrophilic drugs through the skin. We have performed a pilot study using the nanocarriers for the treatment of feline hyperthyroidism, which found a 72 percent reduction in mortality in the first year – largely because delivery through the skin meant cats weren't vomiting the orally administered drugs (a common problem).
As well as facilitating passage through tissues, polymeric drug delivery systems can also prevent passage through biological barriers. DendroPharm has developed a second nanocarrier architecture that delivers opioid drugs intravenously or as depot to produce peripherical pain relief at inflamed tissues or tumors while, crucially, preventing passage through the blood-brain barrier, which reduces the chance of addiction and other side effects, such as nausea or constipation. We believe this system has real potential to help combat the opioid crisis.
These two examples illustrate how polymeric drug delivery systems allow for the development of more targeted, personalized treatments, reducing side effects and improving efficacy – even making certain previously unsafe treatments possible for patients. However, there is one key challenge that must be overcome: characterization.
Polymeric drug delivery systems are complex and exhibit size and structure heterogeneity related to variations in polymer composition, drug loading, and manufacturing processes. In short, it can be difficult to obtain a clear understanding of a given system's properties. Another critical factor for any drug delivery system is stability. Analyzing the stability of polymeric systems over time and under various conditions is challenging because changes in temperature, pH, and other environmental factors can lead to aggregation, precipitation, or degradation. Polymers and drug carriers can also undergo conformational changes in response to environmental conditions or interactions with biological molecules. These changes can affect drug release kinetics, biodistribution, and therapeutic efficacy – necessitating advanced techniques to monitor and understand them. Finally, accurately quantifying the amount of drug loaded within a polymeric carrier is crucial for determining the therapeutic dose. However, drug loading can be affected by factors such as solubility, compatibility with the polymer, and encapsulation efficiency – making quantification difficult.
This is why we partnered with Tosoh – a leading supplier of chromatography solutions for the purification and analysis of various macromolecules, including protein therapeutics and carriers such as AAVs or VLPs – to address these characterization challenges. Doing so is essential to developing safe and effective drug delivery systems with predictable behavior and desired therapeutic outcomes; not least because this is what is demanded by regulatory agencies. Regulators want to see validated GMP-style synthesis of these novel excipients with smart quality control. Early-stage problems here can create bigger problems as drug-delivery developers attempt to scale up their systems. If boundaries and specifications are too narrow, it can create economic problems; if they are too wide, it can result in drug safety problems. Getting this window right is crucial to the success of the product.
The SEC-MALS solution

The gold-standard technique for polymeric drug delivery systems characterization is size exclusion chromatography (SEC) – a powerful technique that can separate and characterize macromolecules based on their size in solution. When coupled with advanced detectors, such as those based on multi-angle light scattering (MALS), SEC becomes even more valuable for characterizing complex polymeric drug delivery systems.
For example, MALS helps improve measurement accuracy by providing true molecular weight determination without relying on calibration standards; notably, molecular weight directly influences important properties, such as drug loading capacity, release rate, and stability. In addition, polymeric drug delivery systems often involve complex architectures, such as copolymers, block copolymers, and polymer conjugates, which can influence drug encapsulation, release, and interactions with biological systems. SEC-MALS provides insights into the molecular weight and size of different segments within the polymer, helping us understand the distribution of these segments and their impact on the overall behavior of the system.
SEC-MALS can also monitor changes in molecular weight and size distribution during stability studies, helping identify aggregation or degradation of the carrier system (which can affect performance and safety). And when developing different formulations of polymeric drug delivery systems, SECMALS can be used for comparative analysis to understand the impact of variations in polymer composition or processing conditions on the resulting system's size, molecular weight, and conformation. SEC-MALS can also serve as a valuable tool for quality control and process optimization during the development and production of polymeric drug delivery systems. By monitoring the size and molecular weight parameters, manufacturers can ensure consistent product performance and characteristics.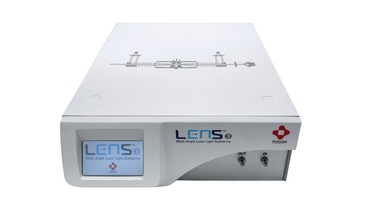 All in all, SEC coupled with MALS detectors enhances the characterization of polymeric drug delivery systems by providing accurate molecular weight determination, revealing complex structures, offering insights into conformational changes, and enabling comprehensive analysis of interactions and stability. This information is crucial for designing effective and safe drug delivery systems with desired properties.
In addition to SEC instrumentation, columns, and a MALS detector, Tosoh also recently introduced a viscometer, which measures the intrinsic viscosity of the polymer in solution. Intrinsic viscosity actually reflects the inverse of density; a polymer with an extended shape or low density in solution will show a higher intrinsic viscosity than a polymer with a compact structure or high density.
Combining light scattering (MALS) and viscometry provides a straightforward solution to complement standard refractometry detection systems to get the full picture of polymeric drug delivery systems. This triple-detection SEC approach reveals the structure, shape or conformation of polymers in solution, which may affect drug release kinetics and interactions with target sites.
In short, such advanced systems are vital for ensuring our nanomaterials are properly characterized. But DendroPharm isn't just a developer of new polymeric drug delivery systems. We also synthesize tailor-made nanocarriers, analyze and characterize compounds for clients, as well as offering other formulation development and contract manufacturing services. So we also see value in using the latest analytical methods – such as Tosoh's SEC-MALS solutions – to enhance our characterization capabilities for our customers.
I'm passionate about the potential of polymeric drug delivery systems to improve the efficacy of therapeutic drugs while also reducing potential side effects – enabling new personalized treatments for patients. At the same time, we all recognize that quality control – though challenging from an analytical point of view and heavily scrutinized by regulators – is vital to ensure patient safety and drug efficacy. Fortunately, there are solutions available to tackle those challenges and deliver – quite literally – for patients.
Receive content, products, events as well as relevant industry updates from The Analytical Scientist and its sponsors.