Techniques & Tools
Micro/Nano-scale
Fast Cell Sorting – on a Chip
A dime-sized microfluidic device harnesses acoustic waves to efficiently sort cells
Victoria Barton |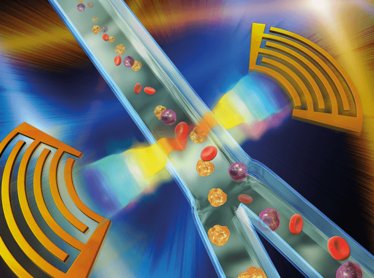 Flow-cytometry based cell sorters aid in both medical diagnosis and biological studies, but commercial systems tend to be expensive (both to purchase and maintain), large, and complex. Moreover, according to Tony Jun Huang, professor of engineering science and mechanics, Pennsylvania State University, USA, they have been reported to significantly reduce cell viability, especially when sorting fragile or sensitive cells such as neurons, stem cells, and sperm cells.
And although lab-on-a-chip devices typically struggle to keep up with their benchtop or floor-standing counterparts, one such device now rivals fluorescence-activated cell sorters with its efficiency. The device, developed by a team of researchers led by Huang uses acoustic waves to rapidly sort a continuous flow of cells on a dime-sized chip (1).
"In recent years, microfluidics has emerged as a promising platform for developing low cost, portable and disposal equipment," says Huang. "Meanwhile, the biocompatibility of acoustic waves has been proved in many applications such as ultrasonic imaging. Thus, an acoustofluidic – the fusion of acoustics and microfluidics – cell sorter has great potential to overcome the drawbacks of fluorescence-activated cell sorters."
How does it work? According to Huang, the acoustic wave cell-sorting chip uses two focused interdigital transducers (FIDTs) to generate two surface acoustic waves (SAWs) propagating in opposite directions. The two SAWs interfere with each other, forming a standing SAW (SSAW) as well as pressure nodes and antinodes. "The cells/particles in the SAW area experience an acoustic radiation force and are sorted to the nearest pressure node," says Huang. Like a lens focuses light, the team used circular-shaped electrodes to focus the acoustic waves. "We were so excited to figure out that the performance of the FIDTs is highly dependent on the angle of the circular-shaped electrodes. We could achieve a focal beam with a similar size to that of the acoustic wavelength – this was the most critical step of the project," adds Huang.
Many acoustic cell sorters have been developed in the past, but none have rivaled the efficiency of commercial instrumentation (103-104 events per second). Huang has already demonstrated error-free sorting at a throughput of 3300 events/s, but says, "Our device has a theoretical maximum throughput of 13,800 sorting events/s, comparable to commercial cell sorters".
One limitation of the prototype is that it can only sort cells into two channels, compared with commercial cell sorters, which are capable of multi-channel sorting. In previous work, Huang has demonstrated multi-channel sorting using frequency-tunable IDTs and believes that this could be applied in this case too: "We plan to integrate the sorting unit with a laser-induced fluorescence detection system to develop a high-performance fully functional acoustofluidic fluorescence-activated cell sorter. We will also apply this system in the sorting of fragile cells, such as stem cells and sperm cells, to prove the biocompatibility," adds Huang.
Receive content, products, events as well as relevant industry updates from The Analytical Scientist and its sponsors.
L Ren et al., "A high-throughput acoustic cell sorter", Lab Chip, 15, 3870-3879 (2015). DOI: 10.1039/C5LC00706B.