Techniques & Tools
Spectroscopy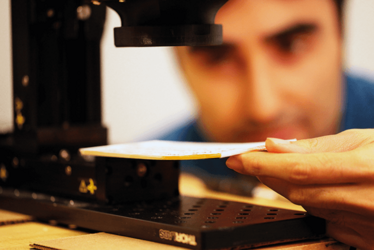 Hold the Front Page
Barmak Heshmat and his team at the MIT Media Lab have developed an imaging system incorporating terahertz time-domain spectroscopy (THz-TDS), that allows users to 'read' through multiple layers of paper. Unlike with x-ray technology, the short bursts of radiation emitted from the terahertz camera are able to distinguish between paper and ink – and in this case, the research team's prototype was able to identify letters on the first nine sheets of a stack of paper. With its potential to analyze material organized in thin layers in a non-destructive manner, the discovery has implications for pharmaceuticals and the machine industry, as well as art galleries and museums.
Credit: Courtesy of Barmak Heshmat
1. A Redo-Sanchez et al, "Terahertz time-gated spectral imaging for content extraction through layered structures," Nat Commun, online (2016). DOI:10.1038/ncomms12665
Would you like your photo featured in Image of the Month? Send it to [email protected]
Receive content, products, events as well as relevant industry updates from The Analytical Scientist and its sponsors.