Techniques & Tools
Sensors,
Food, Beverage & Agriculture,
Mass Spectrometry,
Technology
Let Battle Commence
Could FoodSmartphone be a more effective weapon in the fight against food fraud?
Michel Nielen |
Let Battle Commence
Ensuring food quality and safety can often be an uphill struggle. Could FoodSmartphone – a handheld bioanalytical sensing and diagnostics tool – be a more effective weapon in the fight against food fraud?
In the field of analytical science and technology, a two-sided trend is becoming apparent. In the future, there will be an increase in on-site testing at the point of care in hospitals and GP offices, but also in the field, at farms, in retail spaces – and even at home. And that means a great deal of lab work will move to the end user. At the same time, there is also a trend towards very high-end instrumentation and orthogonal techniques that can measure both biological and physical chemical parameters in a method.
I saw the same trend in food analysis – and that's why two years ago, I applied for a European PhD training network project called FoodSmartphone, which ultimately aims to bring the tools of the routine food analysis lab to end users. I see three different and highly complementary ways of achieving that goal – but all three have different starting points and development times.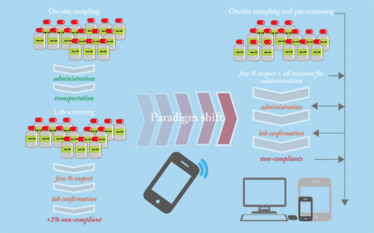 Testing, testing... 1, 2, 3
The first approach is handheld food scanners, which are mainly vibrational spectroscopy- and hyperspectral imaging-driven. Such options rely on what I would call relatively low resolution spectroscopic techniques which, thanks to chemometrics, can offer significant value – particularly for onsite measurement of high-concentration food ingredients, such as moisture, fats, proteins and carbohydrates. "Nutritional value" data is also highly relevant for food traceability and food authenticity. Both the technology and the mathematics are already there. And so, what we can expect in the near future is most likely an integration of different platforms, such as hyperspectral data, combined with NIR and Raman spectroscopy data. You can do quite a lot with these technologies, but you cannot measure residues or contaminants at low levels – and that will never be within reach.
The second approach – where FoodSmartphone sits – addresses how we can drive onsite technology sensitivity down towards maximum residue limits, which means measurements at the sub-ppm level, rather than the percent level. In other words, concentration levels that are relevant to legislation, which also necessitates increased specificity and resolution. FoodSmartphone, at its core, is based on specific bio-recognition – using antibodies and other bioinspired receptors. In essence, we are bringing strip test diagnostic analysis or multiplex immunoassay equipment from the lab to the smartphone platform, and developing solutions for the food analysis field. In reality, this requires a great deal of research in areas such as surface chemistry, biorecognition, microfluidics and image data handling, so we are somewhat behind the starting point of the food scanner approach.
The third approach is also behind, but nevertheless imminent: portable mass spectrometry. In food analysis, mass spectrometry is a key technology – and the field was actually one of the early adopters. Companies are already bringing "compact" MS systems to the market, and at major conferences, you see that several venders and startup companies with the same objective. "Compact" currently means 30–40 kg, with simplified pumping systems, so the sensitivity is not world record-breaking, but may be good enough for at least a part of relevant food applications. You bring them to the field, switch them on and, within 5 or 10 minutes, they are self-tuning and calibrating. However, most of them still require a power and/or gas, so they are not '"portable" yet, but rather "transportable". The next phase is to make them truly portable – and that requires much technology development. For example, the mass range and resolution of the 908 Devices instrument is currently not good enough for food analysis requirements, but the user-friendliness of the concept is indeed a good benchmark for future developments.
Building for speed
I devised the four-year FoodSmartphone project, and my partners and I applied for and obtained a 2.8 million euro Horizon 2020 grant in 2017. I am the coordinator of the entire program, which equates to about 40 percent of my time! The project has 11 dedicated PhD students working across 11 different strands, which range from biorecognition (and the development of new ligand-binding materials) to the development of smartphone-compatible detection schemes, (3D-printed) microfluidic-based sample preparation, and image data handling routines. The user interface is important, and throughout the course of the project we will identify best practices and the most promising areas. We will then apply them to specific issues, ranging from pesticides and veterinary drugs to allergens and food spoilage organisms – the real applications of interest.
The scientific challenges are multiple; first of all, the conventional immunoassay approach in the lab is far too slow. Smartphone users want an answer in seconds or minutes, and will not want to wait hours for sample preparation and incubation – so we really must find ways to speed up the process. We also need to make sure these (faster) sample preparation protocols require no training. You cannot expect people to carry out precision pipetting, or precision mixing of reagents – it must be built into a test kit.
Some aspects of the project are beyond my personal knowledge base, so selecting the best partners was critical. I selected each FoodSmartphone partner either for their track record in food analysis or for specific technological skills. For example, at Queen's University, one of the PhD students is very keen on both mathematics and image data analysis, and there is another department focused on nanoscience and nanotechnologies.
Our colleagues in Sweden are doing amazing things with 3D-printed microfluidics – and have a good track record in the engineering of printed optical parts and interfacing them with smartphones. At the end of the project, they will bring us a low-cost 3D-printed device that is capable of precise mixing and pipetting - steps normally done by a technician in a lab - at the press of a fingertip. Now that's simplified sample preparation! Of course, in food analysis, samples and extracts are dirty, so we need filtration devices. Classical filtration is time consuming, so we need well-defined and rapid filtration steps courtesy of the nanoengineering–microfiltration group at the SME Aquamarijn.
By the end of the four years, we hope to have a range of prototypes with a range of demonstrated applicability, along with commercialization plans and future areas for development for the project scientists, who will be postdocs by then. We also want to source companies who can take the project further.
Smartphone users want an answer in seconds or minutes, and will not want to wait hours for sample preparation.
Social sharing
We must not only do good scientific work, but also train our group of PhD students with the future of food analysis in mind and make sure they obtain essential transferable skills. Each student has a personal development plan, which is partly scientific and partly focused on communication skills; for example, presenting to end users or starting their own businesses in (smartphone-based) food analysis. As well as developing proof-of-concept prototypes by the end of the project, we will have nurtured a group of people who can be the frontrunners in the development of the field. I'm very excited about the approach.
When you are designing and developing devices, it's important to communicate with the outside world – and good communication is only going to become more important in the future. For that reason, we decided that one PhD student is "on duty" each week, providing content for the FoodSmartphone blog; talking about adapting to the new environment, and what they are working on throughout the course of the project. Everybody will be able to see what researchers do and face on a daily basis.
We are also very active on Twitter, which is a first for our research. Of the many ongoing analytical science projects, so few use social media, which is a shame; after all, it can make you and your project more accessible and it also raises your profile. Ultimately, we would like to see more close communication, not only with end users from research or QC labs (who are used to finding their way through science journals), but also with a broader range of people – those who I would call non-expert lab operators and technicians. We need to get them involved. It's a major challenge, and a good first step is to be active on social media.
Excitingly, FoodSmartphone is unique. There are people working on smartphone-related diagnostic tools, and though they are exciting from an engineering or image data handling point of view, they simply do not fulfil food analysis requirements. With FoodSmartphone, we have a mixture of people with backgrounds in physics, mathematics, diagnostics and food analysis practice. By combining all our skills and knowledge into a single end-user-focused program – I think we'll be able to make a difference.
Receive content, products, events as well as relevant industry updates from The Analytical Scientist and its sponsors.