Techniques & Tools
Chemical,
Sample Preparation
Support Network
"Chemical caryatids" improve the stability of metal–organic frameworks
Joanna Cummings |
Metal–organic frameworks (MOFs) are a diverse range of materials with a variety of analytical applications. In our June feature, Victoria Samanidou noted their usefulness in several sample pretreatment approaches, including SPE, dispersive SPE, magnetic solid phase extraction, SPME and stir bar sorptive extraction – "and with many others likely to be included in the future," (here). However, MOFs do have a weakness – they can be vulnerable to changes of pressure or temperature. If a material is not sufficiently mechanically stable, these forces cause pores to collapse or the material to break.
"Compared with other nano-porous materials, MOFs are relatively mechanically weak," says Berend Smit (École polytechnique fédérale de Lausanne). "There are MOFs that are very strong and some that have such a low density that they are more like solid foams – sufficient mechanical stability in MOFs cannot be taken for granted." To help tackle the problem, Smit and Lev Sarkisov (University of Edinburgh) set out to get a better understanding of MOFs – and, in particular, zeolitic imidazolate frameworks (ZIFs) – at the molecular level.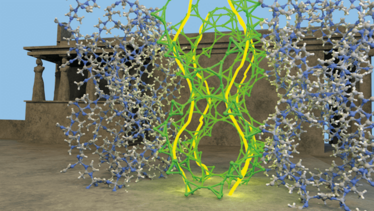 They discovered that functional groups on the organic lipid molecules can either enhance mechanical stability through nonbonded interactions or weaken it by destabilizing bonding networks (1). The researchers further deduced that by controlling these functional groups – which they termed "chemical caryatids", in reference to the supporting columns for structures in ancient Greece – they could strengthen MOF structure and thus improve performance.
The researchers went on to develop software to predict the effect of different functional groups on MOF mechanical stability. Improving mechanical stability of materials at the early stages of a project will be a big time-saver for researchers, Smit adds. "Before our work, assessing mechanical properties was trial and error – there was a danger of discovering at the very end of a project that the material cannot be used because it collapses as soon as one handles the materials."
Receive content, products, events as well as relevant industry updates from The Analytical Scientist and its sponsors.
SM Moosavi et al., "Improving the mechanical stability of metal–organic frameworks using chemical caryatids", ACS Cent Sci, [epub ahead of print] (2018).