Techniques & Tools
Mass Spectrometry,
Technology
The Lego-lytical Scientist
Plastic spectrometers help students understand instrumental limitations
Stephanie Sutton |
Have you ever tried to build a spectrometer out of Lego? No? Well, staff of the Department of Chemistry at Imperial College London challenged first-year students to do just that in a fun exercise with a serious problem-solving objective.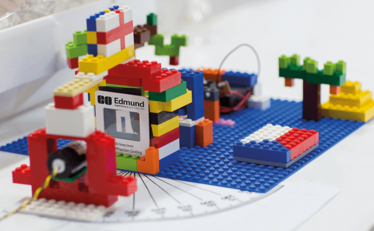 "The project started off by wanting first-year undergraduate students to improve measurement techniques in the lab. In order to do this, it is important to understand the limitations of the instrument being used. One way this can be done is by building your own instrument. One of the core objectives of our lab is to remove the 'black box' concept," says Joshua Edel, who led the initiative.
The ubiquitous and flexible nature of Lego made it the ideal platform to support the other essential components: detector, lenses, diffraction grating and light source. A Raspberry Pi computer was used to record the detector signal and the data were analysed using Python. Working in groups, the students were given a basic schematic of a typical spectrometer, but were expected to develop their own solutions as to the optical configuration and data analysis strategy. Solutions varied from functional box-shaped devices to more elaborate creations.
"Outcomes include students understanding the operating principles of a UV-Vis spectrometer, building on python programming ability, improving measurement technique and sample preparation methods, improving problem solving ability, and successfully working in a group," says Edel. "Although the concept of this project was rather simple, behind the scenes it took significant amount of preparation, programming and electronic component development to ensure that everything ran smoothly." In other words, serious commitment – for our full feature on analytical education.
Edel is already working on similar activities for second year students, although he says he's likely to replace Lego with the components more typically found in analytical instruments. And in case you're wondering, Edel admits that he was indeed a fan of Lego as a child. "In fact, my kids are playing with the same Lego sets that I had as a child..."
If you're inspired to build (or force your students to build) an analytical instrument from Lego, we'd love to see a photo on Twitter: #legolytical @tAnaSci
Receive content, products, events as well as relevant industry updates from The Analytical Scientist and its sponsors.