Techniques & Tools
Mass Spectrometry,
Clinical,
Microscopy
Think Before You Ink
Advanced mass spectrometry finds that tattoo ink can migrate to lymph nodes
Joanna Cummings |
With an estimated 30 percent of Americans now sporting at least one tattoo, going under the needle has never been so popular (1). But could the long-term effects of body art be more than skin deep? A study has shown that nanoparticles of tattoo pigments can travel from the skin to the lymph nodes, raising new questions about potential risks (2).
According to scientists from the German Federal Institute for Risk Assessment (BfR), safety concerns have been triggered by the increasing prevalence of tattoos. Earlier chemical analysis of tattooed skin has mostly been in vitro (3), but pigmented and enlarged lymph nodes have been noted previously in people with tattoos (4). The German researchers wanted to examine the phenomenon in more detail.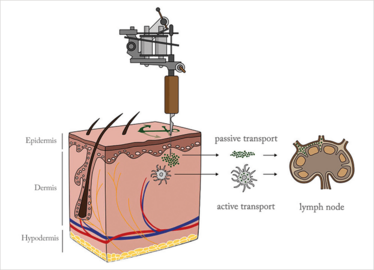 Using a combination of synchrotron ν-XRF/FTIR microscopy, MALDI-TOF-MS and ICP-MS, the BfR team analyzed skin and lymphatic tissue samples from four tattooed human cadavers down to 50 nm resolution, comparing them with samples from two non-tattooed individuals. They found traces of organic pigments in skin and lymph samples, as well as inorganic elements such as iron oxide and titanium dioxide.
While no impact on health has been shown, some of the compounds found are known toxins or carcinogens, and the authors stated (5), "People should be aware of the unknown risks that might come along with tattooing, rather than presuming that the colors are safe (5)."
In future experiments, the researchers hope to track pigments and heavy metals in other organs and tissues. Further research is also needed to determine whether the nanoparticles cause long-term health effects.
Receive content, products, events as well as relevant industry updates from The Analytical Scientist and its sponsors.
"Tattoo Takeover: Three in Ten Americans Have Tattoos, and Most Don't Stop at Just One", The Harris Poll, (2016). Available at: bit.ly/1SQYy0D
I Schreiver et al., "Synchrotron-based ν-XRF mapping and μ-FTIR microscopy enable to look into the fate and effects of tattoo pigments in human skin", Scientific Reports, 7, 11395 (2017).
I Schreiver et al., "Identification and hazard prediction of tattoo pigments by means of pyrolysis—gas chromatography/mass spectrometry", Arch Toxicol 90, 1639–1650 (2016).
LL Anderson et al., "Tattoo pigment mimicking metastatic malignant melanoma", Dermatol Surg 22, 92–94 (1996).
Bundesinstitut fűr Risikobewertung, "Questions and answers on the study lead of BfR investigating the distribution of tattoo ink as nano-sized particles in lymph nodes", (2017). Available at: bit.ly/2AiiQdC. Accessed November 28, 2017.