Business & Education
Education,
Professional Development
Advocate and Advance
Renã Robinson tells us about her role as President Elect of NOBCChE, and why advocates are vital to ensuring true representation in the field
Lauren Robertson | | Interview
Renã Robinson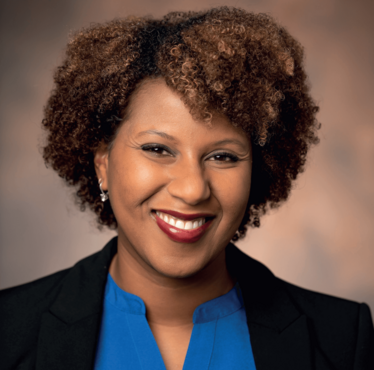 Renã is an associate professor of chemistry and neurology at Vanderbilt University and a Dorothy J Wingfield Phillips Chancellor's Faculty Fellow. Her research primarily focuses on Alzheimer's disease pathogenesis and disparities, and she is a pioneer in combining sample multiplexing and MS for large scale analysis of proteins. She recently became the President Elect of NOBCChE.
What does the role of President Elect of NOBCChE involve?

My role at the moment is to support and help our current President carry forth the mission of NOBCChE. And that means focusing on developing strong leaders and having a dynamic board that will help make sure all of the organizational programs that bring together academic institutions and industry or government agencies thrive. We're also constantly working to grow our membership and support the needs of our members.
Could you please share your own experiences of systemic racism?

Many experiences throughout my career can be considered evidence of systemic racism – whether they were more subtle, like not getting the attention I was due or being discredited for my opinions, or more blatant, like inappropriate comments. I'd like to share one specific incident to give a flavor of what Black scientists have to constantly deal with. Many years ago, I was applying for a student fellowship where one of the requirements was that you had to be from an underrepresented minority group. It was based on merit, but that was one of the criteria. I asked a faculty member to write a letter of recommendation for me and they refused because they wanted to validate me against the level of my entire class – despite the fact I was doing really well anyway. I remember being really hurt and confused – I was the only one in the whole class who was eligible!
It didn't make sense to me at the time, but you learn to deal with these things. It's really helped build my capacity to truly understand just how many barriers there are to Black students advancing in the field. The systems are broken, and even when someone does make it into this space they might merely be tolerated rather than respected based on their value as scientists. Organizations like NOBCChE offer the chance to combat such issues.
Why did you decide to pursue chemistry and who were your role models?

Initially, chemistry was just a plan to get to medical school for me – when that was no longer the plan, I was going to run my own cosmetics company. But when I went to graduate school, I started to get really excited about analytical chemistry!
In terms of role models, the first to spring to mind is actually my mom. She's not a scientist, but she really showed me what it looks like to work hard and be persistent in whatever you do – to keep pursuing your goals no matter what comes your way. As I've grown in my career, I've also come into contact with many other individuals who've acted as role models. For example, when I thought about becoming a faculty member, Isiah Warner was a massive role model to me – as well as a mentor.
It's an honor to be one of the Dorothy J Wingfield Phillips Chancellor Faculty Fellows at Vanderbilt. She was the first Black female to get an undergraduate degree at Vanderbilt and in chemistry. She is a constant inspiration not only because she was strong enough and willing enough to pursue her dream, but also because she taught me that my role as a faculty member (and as an analytical scientist) is much bigger than I originally thought. She has inspired me to give back and truly lift people as I climb the career ladder.
How important is mentorship in general?

Greatly. But I think it's important to first distinguish between mentorship and sponsorship or advocacy. Mentorship is vital for a number of reasons: to help individuals know they belong in a particular field, to give them the right tools to navigate the field, to understand how to excel in the field, and to give them an example of someone who has pursued that same path. Sponsors (or advocates) have a different role; they take it a step further and actually help promote those individuals and create opportunities for them that allows them to progress. A mentor might help you navigate a certain space, but a sponsor is the person who's going to speak up for you when you're not there. Sponsors are the ones who will put you forward for opportunities when you're perhaps not being considered (but should be). I believe it's important that people have both mentors and sponsors in their network.
You were involved in the initial Black People Meet @ ASMS – could you tell us a bit about that?

I've attended ASMS for many years now and I remember being excited when I saw people that looked like me. But it always felt like there weren't enough of us there and I wanted to get to know people better. Eventually this evolved into arranging a happy hour dinner to talk about how to get more people to the event, spread the word, and increase networking opportunities.
All credit goes to Candice, Christina and Michelle for actually carrying this out and forming CBM. It's critical for everyone to have a space where they feel safe and valued – and where their work is recognized. I think CBM is creating that space and that opportunity. I also think it's critical because it's allowing the networks to expand beyond just the US, and enabling people across the world to become mentors and sponsors for one another. It's important that this endeavor is organized in a formal way to help facilitate such activities, and I'm thankful to the co-founders for putting the whole thing together. It's already had a tremendous impact – we've seen how it's been an inspiration for students who may be the only ones in their departments. They are now able to look to this bigger group of individuals and not feel as isolated or like they don't belong.
What's your advice to white colleagues in faculty positions?

The first thing is to become informed and aware of systemic racism – and then look for individuals who are experiencing it. Try to be sensitive and empathize with what it feels like to be in these sorts of fields and institutions, where people may experience systemic racism on a daily basis. Secondly, as I like to put it, "check your heart." Everyone is capable of tolerating people, but do you truly believe everyone deserves to be in this field, if they can put the work behind it? Lastly, use your influence and your voice to help create opportunities and drive change in your own spheres. If that's in your own group, then make sure there are opportunities that are equitable for everyone. Or maybe take it a step further and create change at a departmental level – creating new programs or seminar series to recognize scientists from diverse backgrounds.


*Part of our "Holding a Mirror to Analytical Science" cover feature
Receive content, products, events as well as relevant industry updates from The Analytical Scientist and its sponsors.