Business & Education
Mass Spectrometry
ASMS: A Digital Solution
The ASMS 2020 Reboot involves redesigning the entire conference program for an online format – we invited Rick Yost and Jennifer Watson to talk us through the process
Rick Yost, Jennifer Watson | | Longer Read
As the scale of the COVID-19 pandemic became clear this spring, we quickly saw that we could not hold our annual ASMS Conference on Mass Spectrometry & Allied Topics in its usual face-to-face format. Due to take place in Houston, Texas, on June 1, we had to evaluate new options quickly: do we cancel the conference, postpone it until fall, or move it completely online?

After much discussion, the Board decided to shift our program online, reasoning that we could still share science and maintain engagement without physical meeting. ASMS is a large conference, typically with 6,000 to 7,000 attendees spanning diverse disciplines. A good number of attendees come every year, not just to present and see great science, but also to connect and engage with colleagues and friends. But how can we foster that engagement online?
It was clear that we couldn't simply move our standard conference schedule online, with eight parallel oral sessions every morning and afternoon, and around 750 poster presentations per day. Thus, we planned the ASMS 2020 Reboot (see https://www.asms.org/conferences/asms-2020-reboot), with all talks and posters to be presented in a virtual and interactive format from June 1 to June 12. Plenary lectures, tutorials, and award lectures will all be held as live webinars, as will 40 interactive workshops. These live events will be recorded and made available for three months as on-demand content (along with any other conference content), and each of the 64 oral sessions will have a "watch party" feature, including a live Q&A webinar with the speakers. The live conference program will be bookended each day with corporate events, giving attendees a look at the latest instrument developments. The week after the presentations and posters, we will hold thirteen short courses.

There are enormous challenges involved in shifting a face-to-face conference into an online format – made all the more daunting because we had only a few weeks to make it happen! It would have been much easier to cancel the conference, or postpone it, but the remarkable ASMS staff rose wonderfully to the occasion. With input from the ASMS Board, we were able to put together the online conference in record time.

A particular challenge was working out how to provide attendees with access to the online program content in a secure manner – we repurposed our mobile app and desktop planner program for this purpose since these are familiar tools for our community. We also added the option for attendees to submit questions to oral and poster authors (authors can publish the questions and provide answers), or request more info from authors. We also had to go about refunding all the face-to-face conference registration fees, while simultaneously opening registration for the new online conference (at a quarter of the normal registration fee).

The response of our presenters, individual and corporate members, and attendees has been overwhelmingly positive. Even though some presenters had to modify or withdraw their presentations since they were unable to finish gathering their planned data, others submitted new presentations for the online conference – so it all worked out in the end.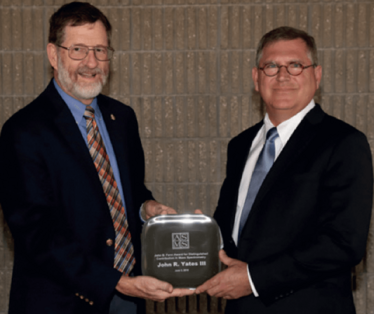 Of course, there are components of the face-to-face conference that can't be moved online. How do you host an opening mixer for thousands of online attendees, for example? And the planned finale event in the Houston Museum of Natural Science doesn't translate well to an online format – at least in part because of the inevitable lack of food, wine, and beer to share… But we've done our best to move most of our conference and engagement activities into the digital realm.

Everyone is looking forward to a return to face-to-face conferences (ASMS 2021 will be in Philadelphia next June), but some of the features developed for the ASMS 2020 Reboot may be preserved for future events – online or otherwise. We've offered attendees the opportunity to watch the recorded oral presentations and look over the posters online for months after the conference for a number of years. This year we're encouraging poster presenters to record a 3-minute "flash talk" video to accompany their online poster – perhaps we can offer that option at face-to-face poster presentations, too. We'd love to hear your feedback during and after the event (send this to [email protected]) – what worked seamlessly, what fell flat, and what you would like to see become a regular fixture.

It's always stimulating to think about how we can best showcase brilliant science and provide opportunities to network and engage. The COVID-19 pandemic has thrown obstacles in our path, but we encourage others who are planning (or re-planning) conferences to be creative in their approach. We hope to see you (virtually) there from June 1!

What to Look Out For…
A round-up of some of the interesting lectures, tutorials and workshops available at the ASMS 2020 Reboot

Tutorial: "Glycoprotein Analysis for Understanding Human Disease"

Fields like proteomics and genomics have been hailed as breakthrough fields for medical application, but glycoproteins remain less frequently discussed. Their complex structures require specific analytical considerations to open the doors to "sweet success," but analysts are making swift progress. Here, Heather Desaire explores the shifting landscape of this booming topic, sharing expertise garnered from her research into how analysis of glycoproteins can improve the diagnosis and treatment of a number of human diseases. With a focus on future applications, as well as the challenges that must be overcome, this is a must-see talk for anyone dabbling in the area.


Special Keynote Lecture: "Is There Still Gender Bias in Academic Science (and Does It Matter)? What the Scientific Studies Say"

We are all well aware of the gender disparity in academic science and the need to increase female participation in the field – yet the issue persists. In this live webinar, Corinne Moss-Racusin (Skidmore College) will explore how gender stereotypes throughout the STEM fields can contribute to inequality in academia. Not only has her work been extensively covered by the media and published in leading journals, such as Nature and Science, but she has also presented her findings at the White House.


Opening plenary lecture: "Mars 2020"

Launching in late July, the Mars 2020 mission will not only search for signs of ancient life on the Red Planet, but also gather rock and soil samples for future analysis back on Earth. In a truly out-of-this-world lecture, Patricia Beauchamp, Chief Technologist, Engineering and Science Directorate at the Jet Propulsion Laboratory, California Institute of Technology, will discuss the objectives of the mission, including the testing of new technology that could benefit future human and robotic exploration of Mars.


Award Session: "Presentation of Al Yergey MS Scientist Award and John B. Fenn Award for a Distinguished Contribution in Mass Spectrometry"

In this live webinar session, Rick Yost will present two prestigious awards for contributions in MS. The Al Yergey MS Scientist Award, recognizing the "unsung heroes" of MS, will be awarded to Rachel Ogorzalek Loo for her contributions to our understanding of electrospray ionization, charging, and protein structure. The second award, in honor of John B Fenn – recipient of the 2002 Nobel Prize for the development of electrospray Ionization – will be awarded to Michael L Gross for innovative and integrative MS-based footprinting for structural proteomics.


Closing plenary lecture: New Dinosaur Discoveries

In this lecture, attendees will delve into the world of paleontology with Steve Brusatte – author of the popular science book "The Rise and Fall of the Dinosaurs, a New History of a Lost World." Steve has spent his career exploring the anatomy, genealogy and evolution of dinosaurs and other fossil vertebrates. His work has been covered by prominent journals such as Nature and Science, and he's also become a mainstay of TV and radio programs on the topic; he was the "resident palaeontologist" on the BBC program "Walking with Dinosaurs," for one! All things considered, it's an opportunity not to be missed!


… And much more

There will also be a number of "Watch Party" sessions covering a number of topics, each followed by live Q&A sessions with the speakers. Just some of the topics to be covered include: Microorganisms and the Microbiome; Exposomics, Toxicology, and Health Outcomes; Therapeutic Proteins, Antibodies, and Antibody/Drug Conjugates; Art, Archaeology, and Paleontology; and Cannabis Testing. And make sure to get your quizzing caps on for the "Lunchtime Trivia Breaks," too – participants can take part in a live quiz with 2,000 other attendees – all competing for real prizes!
Receive content, products, events as well as relevant industry updates from The Analytical Scientist and its sponsors.
---