Business & Education
Professional Development
Celebrating Curiosity
Curiosity is a fundamental trait of all scientists – but it must be nurtured.
Charlotte Barker |
Do ants sleep? How do squirrels find their acorns again? Why can't I eat two ice creams?
All excellent questions – none of which I could answer to the satisfaction of my friend's preschooler. In four-year-olds, at least, curiosity knows no bounds.
Like small children, good scientists never get tired of asking "Why?" And analytical science feeds further curiosity – not only by providing answers to burning questions, but also by opening up fresh lines of enquiry. This month's cover feature explores the topic of curiosity through interviews with four analytical scientists, who share its importance in their work, and in the wider world (read more). The common theme: we are all born with innate curiosity about the world, but society often does a poor job of nurturing those feelings into adulthood.
There are challenges to maintaining our natural curiosity in the technology-rich 21st century. But is constant, easy access to information and entertainment sapping our curiosity? If we always have an answer to hand (albeit a potentially superficial one), are we tricked into believing we already have knowledge, when we have only trivia? Will children of the Internet age lose the ability or desire to think for themselves?
Personally, I don't think there is much danger of curiosity being extinguished from the human race. After all, our questioning nature is a big part of what makes us the world's most prolific (and dangerous) animals. From prehistoric humans making fire to Jonas Salk being the guinea pig for his polio vaccine to the discovery of CRISPR gene editing, we are a species of questioners and innovators, meddlers and thinkers.
Accepting the Biemann Award at ASMS in June, Benjamin Garcia noted, "It takes a society to raise a scientist." And the scientists in our feature believe we can do more to encourage creativity and curiosity in students, from preschool through to university. "When we teach younger students about science, we are too apt to give them a recipe," says Rick Yost.
How do you keep curiosity alive – in yourself and in your students? I'd love to hear your thoughts – charlotte.barker@texerepublishing.com.
P.S. Judging by the deluge of nominations we are receiving for this year's Top 40 Under 40, there is no shortage of innovative young researchers in analytical science. But feel free to make the judging process even harder here.

Charlotte Barker
Editor
Enjoy our FREE content!
Log in or register to gain full unlimited access to all content on the The Analytical Scientist site. It's FREE and always will be!
Login
Or register now - it's free and always will be!
You will benefit from:
Unlimited access to ALL articles
News, interviews & opinions from leading industry experts
Receive print (and PDF) copies of The Analytical Scientist magazine
Register
Or Login via Social Media
By clicking on any of the above social media links, you are agreeing to our Privacy Notice.
About the Author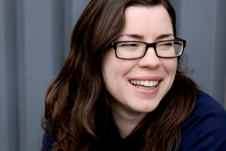 Charlotte Barker