Business & Education
Business,
Liquid Chromatography
Celebrating KNAUER's Diamond Anniversary
When Herbert and Roswitha Knauer founded KNAUER Scientific Instruments in 1962, the world was a very different place – but, despite the passage of 60 years, the famous Knauer passion has endured.
| 3 min read
sponsored by Knauer
The world of analytical science was very different in 1962; high-performance liquid chromatography (HPLC) was just a theory being explored and tested, and we wouldn't see the first computer-controlled GC-MS instruments until later in the decade. The wider world was different too; the Iron Curtain divided Europe – and KNAUER's home city of Berlin into East and West.
It was in a leafy suburb of the Western part of the city, Zehlendorf, where Herbert Knauer – a chemist, working as a researcher at the Technical University (TU) in Berlin – spent his afternoons and weekends tinkering in the kitchen – but not as an amateur chef; instead, he was cooking up new scientific instruments with a key ingredient – a head full of wonderful ideas.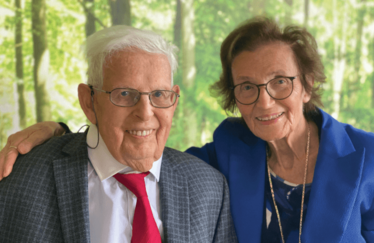 There, his first invention was born – a universal temperature measuring device that could measure down to one thousandth of a degree – the most accurate temperature device in the world at the time. Next followed a freezing point osmometer, which proved to be hugely popular and was the start of a bright future for KNAUER Wissenschaftliche Geräte GmbH – KNAUER Scientific Instruments in English.
Spurred on by their recent successes, Herbert and Roswitha Knauer, his business partner and wife, dreamed big. They purchased a large piece of land in Zehlendorf and built a new headquarters with more than 4,500 m2 of floor space for their 20 employees – plenty of room for the workforce to keep on expanding. In fact, they had a whole floor to use as a tennis court...
In the early seventies, Herbert began working on the device that KNAUER would become renowned for: a HPLC system. Interest in HPLC systems was growing at that time thanks to their ability to conduct analyses and purify valuable compounds; but the technology was not yet optimized – at least not to Herbert's satisfaction.
The first generation of HPLC systems were clunky and difficult to work with. Their components, such as the pumps and detectors, were all contained within the same casing, making repairs or replacements difficult. Herbert recognized a problem he needed to solve. From KNAUER's Berlin HQ, he worked alongside chemists and researchers from TU and the Max Planck Institute to develop the solution: the first modular HPLC system. Here, each component could be easily swapped out, meaning different pump and detector combinations could be selected and repairs carried out – this design would soon become standard for HPLC systems the world over.
Over the next 50 years, the KNAUER liquid chromatography portfolio grew to include fast protein liquid chromatography (FPLC) and simulated moving bed chromatography (SMBC). And there's no longer a tennis court at the KNAUER HQ – in its place you'll find a system assembly line and an in-house applications lab.
The company's expertise in the engineering of liquids at high pressure have recently taken them on a new adventure: NanoProducers – high-pressure mixing units for the formulation of mRNA vaccines. These systems are already being used globally to fight COVID-19 and also earned the company a visit from Angela Merkel – just two days shy of Herbert Knauer's 90th birthday.
And though Herbert and Roswitha passed the reins of their company to their daughter Alexandra Knauer in the year 2000, Herbert's love for science and technology has endured; he remains a familiar face at KNAUER HQ, where he can be seen tinkering with the components in their HPLC systems.
KNAUER turns 60 this year, proving that, though the world inevitably changes, passion can endure!
Receive content, products, events as well as relevant industry updates from The Analytical Scientist and its sponsors.