Business & Education
Gas Chromatography
Improving GC Reliability with a Hydrogen Gas Generator
Hydrogen gas generators are increasing in popularity across the globe – but why should you switch from a traditional cylinder?
sponsored by Peak Scientific
More and more labs are switching to hydrogen gas generators. Why? The main drivers are safety, convenience, and reliability. Combine these factors with the scarcity of helium in recent years and the case for carrier and fuel gas generators becomes even stronger. We spoke to Timothy Fassette, Senior Forensic Toxicologist for Henderson Police Department Crime Lab, to find out why he's gone down the generator path – as well as his experience as a Peak Scientific customer.
What does your role involve?

Our lab conducts DUI (alcohol and drugs) testing with ante mortem (living) samples. We test these for five key volatiles – ethanol, acetone, isopropanol, methanol, and acetaldehyde – and about 100 different drugs.
As a Senior Forensic Toxicologist, my main job is to review case work and validate any new methods we implement in the laboratory. I also help manage quality assurance and quality control for our toxicology and drug analysis programs.
Equipment reliability is extremely important because, as a forensic science laboratory, everything we do is checked through the legal system. Every analysis we run must be examined for accuracy and precision to ensure we maintain the required standard for our field.
We also have to work quickly to provide results to different law enforcement agencies. Without us, they often can't make progress on their cases – so it becomes troublesome if we have to wait days or weeks for instrumentation that isn't working properly.
Why did you switch to a hydrogen gas generator for your lab?

Our gas generator has two main applications. The first is as carrier gas, and the second is for flame support – but we have six or seven other applications in our lab.
Previously, many of our GC applications ran on helium, but we're suffering a worldwide shortage at the moment. We had to switch our GC-MS instruments onto hydrogen generators to ensure that we didn't have to worry about downtime while waiting for helium cylinders...
Reliability was also a big draw. We don't have to perform much maintenance because the units are relatively self-sufficient and we can rely on them to perform well. The continuous gas flow also means that we enjoy a pure, consistent, and reliable hydrogen supply – without any of the safety issues associated with having a hydrogen cylinder in the lab. And because the generator only requires a single delivery for installation – rather than regular cylinder deliveries – logistical costs are also minimized.
Plus, we no longer need to worry about issues like leaky regulators – a trial we've come up against in the past; it's a newfound luxury for us to arrive each day knowing that our instruments will run instead of finding our gas supply completely drained!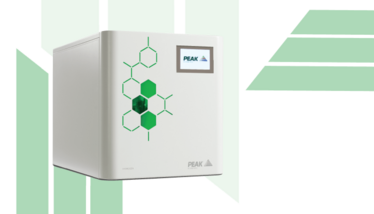 What are the advantages of Peak Scientific's hydrogen gas generator?

A key benefit has been the ability to stack the Precision Hydrogen Trace units in conjunction with other generators. Each of these units is about one foot wide, so the ability to stack them vertically saves valuable lab space.
The consistency of gas purity has also been fantastic; you don't need to worry about the impact of batch-to-batch variation on your chromatogram – because there is none. The generator gives us consistent results across the board, day in and day out. And having one service engineer available to support us across all of our units means we're not having to manage multiple people around the lab – one person can do all our servicing in one go!
How has the pandemic affected your work?

Even before COVID-19, the helium supply was uncertain. With Peak Scientific's help, we've been able to take control of our own gas supply and avoid the unpleasant surprises of potential pandemic-induced price fluctuations. It's also great to have everything on site; not only does it mean we can minimize contact with non-members of staff through cylinder delivery or installation, but it also ensures our gas supply is available at all times. There's little risk of disruption through delayed delivery or maintenance.
How would you describe your experience with Peak Scientific?

Their service department is incredible and we have a fantastic relationship with our service engineer. We can contact him directly for advice on routine changes that we can handle ourselves, which has minimized our downtime significantly.
The organization itself is very responsive. When we first installed the systems, we realized we had ordered a generator with insufficient capacity. We contacted Peak and they immediately came to the lab, assessed the issue, and agreed that we needed a higher-grade system. They treated the situation as a priority, ensuring the replacement arrived as soon as possible. Everything was up and running at the required level in no time – an experience I haven't had with any other supplier.
Receive content, products, events as well as relevant industry updates from The Analytical Scientist and its sponsors.