Business & Education
Professional Development,
Mass Spectrometry,
Metabolomics & Lipidomics,
Translational Science
Leading by Example
Sitting Down With… Livia Eberlin, Assistant Professor, Department of Chemistry, The University of Texas at Austin, Texas, USA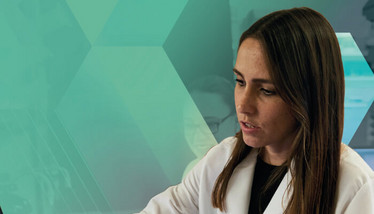 You're perhaps best known for developing the MasSpec Pen. Care to tell us more?
It's a handheld MS device capable of detecting cancer. The pen comprises a tip containing three channels that meet at a reservoir where a solvent droplet – typically water – is formed and interacts with a sample such as a tissue to extract molecules – lipids, metabolites, and proteins – from the sample. A tubing system then transports the droplet from the tip of the pen to the mass spectrometer for analysis. The whole process is automated – incorporating microcontrollers to ensure precise control of the operational steps. Plus, the system is biocompatible and safe to use in human patients.
We've analyzed over 800 tissue samples – mostly surgical biopsies acquired from tissue banks and analyzed in my laboratory – and we are now conducting a clinical study with over 100 patients to determine how well our device works during surgery in vivo and in freshly excised tissues. So far, so good: we are able to obtain complex and diagnostic molecular information from these samples. The next step is to continue testing and improving our methods for real-time disease diagnosis.


What is your current focus?
Pushing towards proper validation and testing of the MasSpec Pen in surgical use, as well as exploring other applications and technologies in health related research. I'm particularly excited by an ongoing project to improve the preoperative diagnosis of suspicious thyroid nodules. Is it benign or malignant? Using metabolic information from MS imaging, we can better determine whether a patient will benefit from surgery or not. We're now looking to validate this finding in a multicenter study using a greater number of samples. Plus, we are running a number of other projects designed to assess the efficacy of personalized treatment modalities, such as immunotherapy.


Who was your most important mentor?
My PhD supervisor, Graham Cooks, had a really big influence on my career – he helped me to define what I was really passionate about. A lot of my work is influenced by him; in particular, I try to carry on his vision by challenging my team to think creatively.
A personal connection is key. In days gone by, your PhD supervisor was often considered a superior figure you barely saw or spoke to – there was an element of fear. Taking inspiration from Graham, I try to be as open as possible; I aspire to be a mentor with a connection tailored to each individual student. Ultimately, it's a supervisor's responsibility to prepare their students for a successful career. It's vital that the student loves their project as much as you do; the last thing you want is a PhD student who is miserable, working on something that they really have no interestin or passion for. Once you find your passion, you don't need to be pushed – the effort comes naturally.


Does being a young woman in science present unique challenges?
On a personal level, I've not really experienced much pushback for being young and female; instead, most of the prejudice I've faced has been because I'm Latino. To be honest, that has only driven me to prove myself more. That said, I have felt a lack of women with children (I have three) as role models in senior academic positions. We have the same number of men and women receiving PhDs – yet we lose many of those women at higher professional levels.
I've been very fortunate. I gained a fellowship from L'Oreal, which has helped me overcome many challenges. Through that process I developed an interest in mentoring, and providing the suport necessary to encourage women to stick with science. I'm keen to connect young researchers with mentors in the field, who can support and encourage those facing adversity.


What has been the proudest moment of your career?
The MacArthur Fellowship I received last year was really special – and completely unexpected! I was told they seek 20 or 30 letters of recommendation, and to know that so many people wrote in support of my career and my research was a massive honor. I feel extremely blessed to be able to work in this field, pursuing projects in the area of application that I love. Of course, it does come with a huge sense of responsibility – I am driven to continue striving for excellence and repaying the faith others have shown in me. I look forward to many more proud moments in the future.
Receive content, products, events as well as relevant industry updates from The Analytical Scientist and its sponsors.