Business & Education
Mass Spectrometry,
COVID-19
Look What You Missed… With Joseph Loo
Joseph Loo, Professor, Department of Chemistry and Biochemistry, University of California-Los Angeles, and Editor-in-Chief, JASMS, is next in our series featuring speakers from three key events – HPLC, ASMS, and SciX – reflecting on the impact of COVID-19. With many of our lives returning to normal, let's consider what we've missed and where we go from here.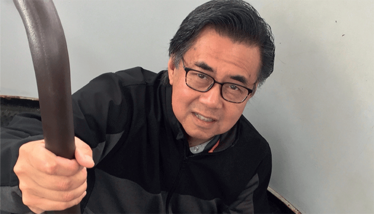 How has COVID-19 impacted your life and work?

Initially, when COVID-19 shut down everything, panic struck. How are we supposed to teach our classes? What are the students going to do without access to a lab? How long is this going to last? But after the initial shock, it was as if time stood still – almost like being in an episode of Twilight Zone! All of a sudden, we had the time to work on manuscript drafts, reports, book chapters… Students weren't able to spend time in the lab, but they had the time to write-up any studies near completion. It was a productive time to write. We all learned to interact via Zoom for group meetings, discussing research progress and future directions. In some sense, it brought us all closer together because everyone was in the same boat. And this applied outside the lab; catching up with friends during weekly remote "cocktail" meetings brought some sense of sanity during that time. I published a few editorials for the Journal of the American Society for Mass Spectrometry (JASMS) describing other activities I suddenly had time for.

Now jump forward two years. I'm still using the "temporary" home office I set up in the family room (my wife took over the spare room office), and I'm busier than ever. My graduate students are busier than ever. Everyone is working full time, albeit with masks. Teaching has been challenging for the instructors but even more so for the students – switching between in-person and remote learning because of the different variants has not been easy.
What about the impact on your role as Editor-in-Chief of JASMS?

During the first six months of COVID-19, it was busy at JASMS. The American Chemical Society (ACS), in partnership with ASMS, is now the publisher of JASMS. All ACS journals experienced a huge increase in the number of manuscripts received and JASMS was no exception. With lab work drastically curtailed because of COVID-induced shutdowns, research groups spent the downtime drafting manuscripts for publication. Graduate students and postdoctoral researchers need to publish to graduate and/or advance their career, and the publishing enterprise didn't really change its operation during those early days – with the exception of being slightly more lenient on the thoroughness of a report. For example, we reminded manuscript reviewers to not recommend that additional experiments be performed unless it was absolutely necessary to support the primary point of the study – primarily because it would be unclear when the authors could perform the extra measurements.

The early days of COVID also gave editors "time" to consider issues related to diversity in science. All ACS editors participated in drafting editorials on the need to promote diversity across the science and publishing enterprise. Those were eye-opening times that I hope will lead to positive change in the future.
Are there any other silver linings?

I certainly can't complain about the work we're doing now. I don't think I could have predicted how far we would have pushed our mass spectrometry research the past five years. There are several research developments from our group that have emerged since the beginning of the pandemic, and that's credit to the students' and postdocs' strength and determination to continue working hard despite the constantly changing conditions. We presented some of our new results at ASMS 2021, but we have a lot more work to be presented at ASMS 2022! Our work centers around protein structure, and we recently discovered new acyl-lysine post-translational modifications. Using top-down MS, we have also developed methods to increase sequence coverage for large proteins, locate the sites of ligand binding, map the positions of disulfide bonds, and derive 3D structural information for protein complexes using native MS. I'm also a member of the Consortium for Top-Down Proteomics, where we have several ongoing initiatives, including a native top-down MS project, a capillary electrophoresis-MS initiative, and the development of a Human Proteoform Atlas. Busy, busy, busy!

Having said that, COVID-19 certainly changed the way we work, and this will likely continue into the near future. Two years ago, nobody would have imagined we'd be using "Zoom" as a verb, in the same way we use "Google." Today, there's no excuse not to Zoom with colleagues and potential collaborators from around the world at all hours. Waking up early in the morning to Zoom with scientists in Europe or staying up late at night to communicate with people in Asia is fairly normal these days. In a way, finding alternatives to having in-person meetings has strengthened scientific ties worldwide. But it has also highlighted the joy of in-person interactions – as those of us who attended ASMS 2021 and the recent (smaller) ASMS/Asilomar conference experienced. Zoom lectures can serve the basic goals for teaching, but they aren't a direct replacement for face-to-face interactions between teachers and students.
What does the future look like for you?

I'll be stepping down as Editor-in-Chief for JASMS at the end of June 2022. The journal is in exceptionally capable hands in the form of the excellent team of Associate Editors and the new EIC, Vicki Wysocki. I have every reason to believe that JASMS will continue to flourish as the leading worldwide journal focused on promoting the science of MS. I will also continue to support JASMS as a manuscript reviewer and author, and from the "inside" – I'll be the Vice President for Programs on the ASMS Board of Directors and then, in two years, President of ASMS.

As for the long(er) term, COVID-19 certainly forced many to reevaluate their career (and life). Life in academia certainly won't be the same as it was during pre-COVID days. Prior to coming to UCLA, I worked in industry, and I have some experience working in a national lab. There are pros and cons to each of these different working environments. I'm closer to the latter stage than the early stage of my career, and I could easily see myself "transitioning" if the right situation emerged. (Nobody from UCLA is reading this, right?)

But who knows. Last year, we all thought things would be back to normal soon, especially after the vaccines were developed. Today, it's not clear whether we'll ever get (completely) back to the pre-COVID days – perhaps that's for the best. It's like that saying, "Diamonds are made under pressure." COVID has made all of us stronger.
Receive content, products, events as well as relevant industry updates from The Analytical Scientist and its sponsors.