Business & Education
Professional Development,
Environmental
Musings from the Power List: Lawrence Madikizela
Lawrence discusses the future of environmental analytical science, his advice for those following in his footsteps, and one scientist he'd love to have dinner with…
James Strachan | | 4 min read | Interview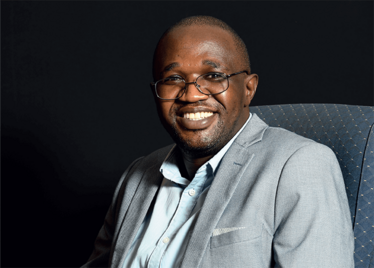 Do you have any predictions for your field over the next five to 10 years?

We've learned from COVID-19 that environmental analytical chemists are inspired by societal changes. When COVID-19 became a pandemic, researchers developed test kits that used wastewater as a basis for identifying the presence of COVID-19 in certain geographical locations. Others linked the occurrence of certain drugs in the environment to an increase in the number of people with COVID-19. For example, researchers developed analytical methods to identify ivermectin in environmental water, which was followed by environmental monitoring and new methods to remove the drug.
Since 2015, interest in monitoring antiretroviral drugs in water has become important to analytical chemists in South Africa, where HIV is prevalent. I predict that future South African research will focus on the analysis of different drugs used as medications. Reports have begun to emerge on the presence of drugs that are not registered as medications in South African water. This is likely to be the center of focus in the next 10 years as more drugs are identified and researchers investigate their removal in water.
Research in European countries has moved toward investigating the fate of pharmaceuticals in the environment. There, the focus will be on identifying and quantitating pharmaceuticals in aquatic organisms, including seafood. At the same time, the uptake of the same chemicals by plants, including vegetables, will receive great interest. Plant uptake can be affected by environmental conditions and soil type, so this kind of research will be needed all over the world.
Are there any major challenges facing environmental analytical research?

One of my fears is that we lack the speed to identify and quantify a wide range of environmental pollutants. This is evident in the analysis of organic pollutants in environmental waters, including drinking water; analytical methods are applied to monitor very few analytes.
Chemists who develop procedures for the remediation of water bodies urgently need information on which chemicals are present in environmental waters so that they can develop and implement procedures to remove those contaminants. Unfortunately, researchers often develop procedures for removing chemicals that may not actually exist in environmental water bodies – we just don't have conclusive scientific evidence either way. This is also driven by a need to publish research data; novelty is often a crucial factor in a journal's decision to accept and review an article.
What do you credit most for your success in the early part of your career?

Hard work, dedication, and a strong support structure. I received enormous support from my immediate family, friends (especially those in academia), and a PhD supervisor – Luke Chimuka – who became a friend and a father in the academic space.
What advice do you have for those following in your footsteps?

Analytical equipment and instruments available nowadays are technologically driven, with the analytical data processed on computers. Younger generations are often able to learn new software quickly and have easy access to online libraries. I would strongly advise them to spend more time reading to understand the science. Once you understand the science, applying it to solve real-life problems becomes easier.
Do you have any personal missions for the next 10 years?

Some of my major aims are to be promoted to full professorship as a globally recognized scholar with over 150 published research articles, an h-index of over 30, and an improved National Research Foundation (NRF) rating. I hope to get there through intensive research focusing on the development of novel analytical methods to identify environmental contaminants, monitoring the occurrence of various contaminants in water, water treatment, plant uptake of metals and organics, and ecotoxicological studies.
Who would you invite to your dream dinner party?

For starters, Janusz Pawliszyn of the University of Waterloo's Department of Chemistry. It would be interesting to spend time with Janusz over dinner. He is well known in South Africa for inventing the solid-phase microextraction technique (SPME), which is part of the syllabus in South African undergraduate courses.
Having taught analytical chemistry to university students for over a decade, Janusz and SPME have often formed the core of my conversations with students. In 2017, I had an opportunity to attend his lecture during the EuroAnalysis conference in Stockholm, Sweden; soon after his talk, I presented my research on the synthesis of molecularly imprinted polymers for solid-phase extraction of pharmaceuticals in water. Janusz is also the Editor-in-Chief of the journal Trends in Analytical Chemistry – one of the biggest in the field.
Given an opportunity, I would definitely seek more information about what inspired the research that resulted in SPME. It would be interesting to find out whether he ever thought that his technique would contribute so much to solving real-life challenges across the globe. I also want to hear his views on the future of analytical chemistry and his opinions on the quality of the new generation of scholars – the emerging researchers.

Lawrence Madikizela is an Associate Professor, Analytical and Environmental Research, at the University of South Africa, Pretoria, South Africa, and was featured on the Top 40 Under 40 Power List 2022.
Receive content, products, events as well as relevant industry updates from The Analytical Scientist and its sponsors.