Business & Education
Professional Development,
Micro/Nano-scale,
Education
Where Are They Now? Episode 2: Russ Algar
We catch up with the analytical scientists featured on our 2018 40 Under 40 Power List to find out how their careers have progressed, what they're up to today, and any exciting plans for the future.
Margot Lespade | | Interview
In 2018, Russ Algar, Associate Professor at the University of British Columbia, told us his ultimate goal was "continued growth" and solving problems that seem "daunting or unimagined today" – working in partnership with other research groups and clinicians. Has Algar been working towards these objectives since we last spoke? We explore.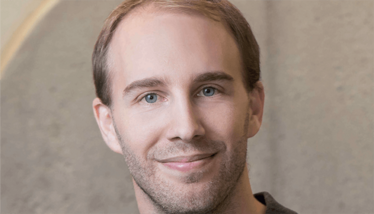 Broadly, how has your career progressed over the past four years?

Things took a challenging turn for my team over the last two years – as they did for most people. Research was progressing well before the pandemic and, after a hiatus and some setbacks, is now thankfully accelerating again. One example of an evolution of our research over the past four years has been a shift toward cellular analysis. Looking back, ideas that were rough sketches in 2018 have now come to fruition. It is also the case that more people have noticed our work, and some of that attention definitely came from my inclusion in The Power List.

I have also been grateful to have received some new honors since 2018. One of these was the McDowell Medal from my institution for excellence in pure or applied scientific research by a young faculty member – it was very exciting for analytical science to be so highly regarded in a pool of outstanding research from across science and engineering. Another honor was the McBryde Medal from the Canadian Society for Chemistry. This award has a 35-year history, so it was very cool to see my name added to a list of great analytical scientists that I've admired since I was a student.
What has been your main lesson learned?

My most recent recognition is a Killam Accelerator Research Fellowship. It provides some lab funding but is most valuable in its protection of time for research. Between the pandemic and normal advances in life and career, I have definitely learned lessons about protecting time. Things like family, personal health, and research seem to exponentially benefit from more time spent on them.

There is definitely still room for improvement, but I'm now more cognizant of the "busy work" that generally has the same outcome regardless of time spent. I'm thus getting better at maximizing the time I spend with my research team, so there's also more time for the family – fatherhood is still the best, although I have notably less hair now than four years ago…
Are you working on anything particularly exciting at the moment?

I'm excited by everything we're working on – my team and our research are truly my biggest professional motivators. That being said, one interesting thing about our current work is that our research directions are, in a sense, diametrically opposed. On one hand, we are continuing to develop our capability for single-molecule and single-particle fluorescence measurements, and have a long list of fundamental questions that we plan to answer with these measurements. The instruments are large, expensive, and high-tech. On the other hand, we are continuing to develop portable, low-cost, smartphone-based devices for molecular diagnostics and cellular analysis. For example, we most recently combined a 3D-printed device with supra-nanoparticle assemblies to enable flow cytometry on a smartphone. We hope that assay methods and devices that come from this research will improve the equity and quality of healthcare in rural or remote communities that have fewer resources than urban centers.

There are links between the two streams of research, but contrast in the technical requirements of the research keeps things interesting. Ultimately, the high-tech answers to fundamental questions will inform some very practical advancements.
Do you have any major career goals for the future?

More collaborative and translational research is definitely a goal for the future. To some degree, I consider my group to be toolmakers, so I want our R&D to answer fundamental research questions in biology and health, and to develop technologies that are used in the clinic. My team has started down this path with some great collaborators and discussions with potential end-users but really we're just getting started.
What is the single-most exciting development in your field today?

The most exciting ongoing development in my particular area of research is single-molecule detection. There is no better detection limit than a single molecule, and nothing is hidden when measuring molecules one at a time. With technological advancements, single-molecule fluorescence imaging has gone from exotic to almost routine. That's exciting in itself, but I think I'm more excited by the number of different approaches to single-molecule detection that now exist. Of course, there are challenges to address, but single-molecule detection and digital assays have tremendous potential. I'm definitely enamored with the idea of low-cost, portable devices capable of single-molecule detection.
Any advice for young people entering analytical science?

Good advice for young analytical scientists is to learn broadly and to take on projects that push them in new directions. If you already know how to complete a project before you start it, then the project might not have been worth doing in the first place. I think I've been better served by knowing a little about many things than by knowing a lot about a few things.
Receive content, products, events as well as relevant industry updates from The Analytical Scientist and its sponsors.