Business & Education
Education,
Professional Development,
COVID-19
Where Are They Now? Episode 4: Jean-François Masson
Previous 40-Under-40 Power Lister Jean-François tells us about his work developing antibody tests for COVID-19, a maple syrup quality project, and the impact his research is having in the real world
Margot Lespade | | 3 min read | Interview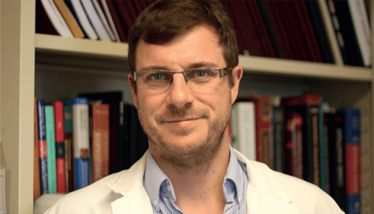 How has your career progressed over the past four years?

The past four years have been very busy, with old research ideas coming to maturity, new research projects arising (some driven by the pandemic), and more opportunities to contribute to the international analytical science community. On the science side, I am particularly proud of the work we have done in response to the pandemic. My group has been active in developing antibody and neutralization tests, which are now used in epidemiological studies in Canada. In another project, we designed a test to help maple syrup producers assess the quality of maple sap before production.

Finally, I am proud that my lab's startup company (Affinité Instruments) has grown over the past years and is now active internationally.

On the personal side, I am delighted to have been named Associate Editor of ACS Sensors, serving as program chair of the 2021 SciX conference and co-chair of the 2022 GRC on Bioanalytical Sensors. Organizing a conference in a pandemic was no easy task, but arranging one of the first in-person events post-pandemic brought a lot of satisfaction.
What has been your main lesson learned?

My main lesson learned in the past four years is that our research matters to society more than I expected. It is essential to follow through on ideas that matter to us – because who knows what will be important in the future? To illustrate this, our antibody detection work from five to 10 years ago was fascinating to us, but attracted little interest from funding agencies. As such, I never anticipated that we would eventually be part of a national network of scientists monitoring antibodies in the Canadian population in a pandemic. It also meant that, when the pandemic struck, we were ready to work on it from day one.
Are you working on anything particularly exciting at the moment?

My lab has moved to a brand-new science campus at the University of Montreal, which brings many new opportunities. The labs were designed specifically for our needs and we have a biosafety level 2 laboratory that allows us to conduct clinical trials. This has been an absolute game-changer for us. We are currently working on a series of clinical tests for COVID-19 in a longitudinal cohort of 300 individuals and another in the context of blood transfusion and blood donors.

My interest in neuroscience has also grown. We have a few projects in the pipeline to monitor a broad range of neurochemicals in the brain using a combination of Raman spectroscopy and optogenetics. We are branching out this project to detect proteins in brain tissues, which brings new technical and analytical challenges that we hope to resolve in the near future. In both cases, we are building new microscopes and designing new sensors – and that is very exciting to see!
Any final thoughts?

I think the pandemic has demonstrated the need for – and impact of – analytical science for humanity. I suspect that the next 10 to 15 years will bring increasingly portable and easy-to-use sensor technologies to monitor the health of individuals. I also anticipate that sensors will be able to monitor complex chemical dynamics in tissues rapidly and with high chemical resolution to address pressing challenges in medicine.

I believe the role of data science, machine learning, and artificial intelligence will grow significantly. Young analytical scientists will need to be equipped to embrace this challenge and I encourage them wholeheartedly to learn more about it.

Jean-François Masson is a Full Professor in the Department of Chemistry at the University of Montreal, Quebec, Canada
Receive content, products, events as well as relevant industry updates from The Analytical Scientist and its sponsors.