Fields & Applications
Spectroscopy,
Metabolomics & Lipidomics
A "Nose" for Trouble
What makes blue crab urine so scary? NMR- and MS-based metabolomics has the answer
Joanna Cummings |
Crabs are known to have superb chemosensory capabilities, walking upstream towards tantalizing chemical cues to locate food and mates, despite turbulence in the water. These detection abilities are particularly important for the mud crab; its ability to "smell" its main predator – the blue crab – is a matter of life or death. The canny crabs hide themselves away whenever one of its predatory cousins is in the vicinity - but what is it that makes the muddy invertebrates act so... spinelessly? A team from the Georgia Institute of Technology decided to wade in and find out.
"We suspected that the crabs were responding to the presence of predators by sensing chemicals that were being transmitted through the water column – however, little was known about the molecular cues involved," says Julia Kubanek, one of the researchers (1). "We then discovered that when the mud crabs are exposed to the urine of blue crabs, we get the same hiding and hunkering down response that mud crabs exhibit when there is a whole, live blue crab nearby."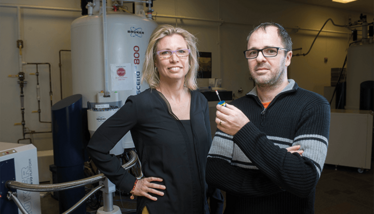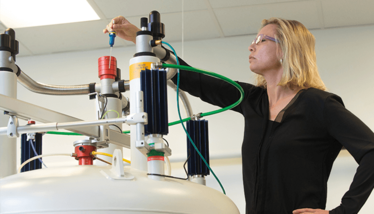 The team analyzed blue crab urine to isolate "fear-inducing" chemical cues, using both nuclear magnetic resonance (NMR) spectroscopy and mass spectrometry (MS) in an untargeted metabolomics approach. "We had no preconceived notion of what urinary metabolites would be important, so we wanted to apply chemical profiling tools that would allow us to detect the largest number and breadth of chemicals possible," says Kubanek.
"We looked for NMR signals whose abundance correlated with fear-inducing effects, as measured by the behavioral assay," says Kubanek. Signals for two compounds jumped out of the analysis: trigonelline and homarine. "Their concentrations were consistently higher in the urine samples that induced greatest fear. So we tested each compound individually at concentrations found in blue crab urine, and each of these compounds alone, and in combination, recapitulated the effects of whole urine."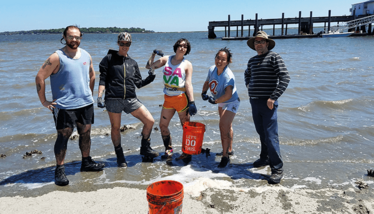 Notably, the urine of blue crabs that had been fed with mud crabs resulted in the greatest fear response: the mud crabs were less scared (although still quite scared) when exposed to urine of blue crabs fed with oysters.
The work is only the first (side!) step for the team. "We would like to better understand what chemosensory and physiological pathways are involved in mud crab detection of trigonelline and homarine, and to study how other estuarine animals respond to blue crab urinary metabolites," says Kubanek. "Another interesting avenue for future research would be to study how anthropogenic influences, such as pollution and ocean acidification, affect crabs' ability to perceive chemical cues."
Receive content, products, events as well as relevant industry updates from The Analytical Scientist and its sponsors.
RX Poulin et al., "Chemical encoding of risk perception and predator detection among estuarine invertebrates", PNAS [Epub ahead of print] (2017).