Fields & Applications
Pharma & Biopharma
A Question of Quality
Pharmaceutical analysis – driven by quality control – exists to assure both the safety and efficacy of drug products. As the world begins to emerge from the clutches of the worst pandemic in decades, the role of the pharma industry has never been more visible – nor have its efforts been under so much scrutiny. Here, we present the results of the Pharma Analysis & Quality Control Trends, Challenges and Outlook 2021 Global Survey.
sponsored by MilliporeSigma
In early 2021 – still very much in the clutches of COVID-19, MilliporeSigma approached The Analytical Scientist with plans to gather the thoughts of the people "on the ground" in pharmaceutical analysis and quality control. Their hope? To uncover the major trends and main challenges.
One survey, over 200 qualified responses, and more than a handful of video meetings later, we are pleased to be able to share the final report with you: tas.txp.to/0621PQC
To whet your appetite, we caught up with one of the minds behind the survey – Wayne K. Way, Global Strategy Pharma Analysis & QC, MilliporeSigma – to explore a few key findings from the report in more detail.
Meet Wayne K. Way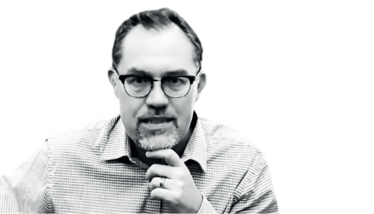 After I received my PhD in analytical chemistry back in the mid-90s, I joined a small contract testing lab. At that time, the company didn't specialize in pharmaceutical services but that side of the business was growing, so the company decided to establish a dedicated division – in part because the industry was so strictly regulated. I led the team in that new division and we did all the work you might expect in an industry dominated by small molecules – including stability testing, method development, USP testing. And I also hosted my fair share of FDA audits, so I'm familiar with that experience…
After some years, I brought my pharmaceutical background and experience to Sigma Aldrich and then to MilliporeSigma, Bellefonte, PA, USA, an affiliate of Merck, KGaA Darmstadt, Germany.
What were the motivations behind the survey?
We were already well aware that the pharma value chain has been rapidly evolving over the last 5-10 years – driven by several key trends: i) the emergence of biologics from a niche position to a more mainstream market, ii) the rise of partnerships and collaboration, which essentially represents a shift in the pharma development mindset, and iii) an increasingly diverse spectrum of organizations –from the large multinational "big pharma" companies we know and love (!) to tiny biotech start ups with a single investigational new drug (IND).
Layered on top of those major trends in 2020 and 2021 is the COVID-19 pandemic, which has had its own influence in shaping current trends and driving new ones.
With so many trends and challenges pushing and pulling, it felt like a great time to grab our survey camera to take a snapshot of the industry as viewed by those in pharmaceutical analysis and QC. And though we are clearly interested in the results of the survey, our intent from the start was to create something that would have value for the industry as a whole – very much in line with the aforementioned trends of partnerships and collaboration.
Indeed, we also sought out an independent partner with a global reach – The Analytical Scientist – to help conduct the survey, analyze the data, and prepare the report.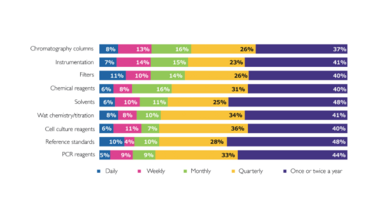 Which survey result is most prominent in your mind?
What stands out most for me is the section on reproducibility and validation (see Figure 1).
In terms of reproducibility, there are evidently more challenges facing analytical labs than I initially suspected – and the issues don't appear to stem from one particular tool or application. The frequency of reproducibility issues – daily and weekly for some respondents – was alarming.
In part, I was surprised by the results because they went against my own experiences in a pharmaceutical testing lab – admittedly 20 years ago (see "Meet Wayne Way"). Although we had our challenges and out-of-specification results, I don't remember them happening that frequently – but maybe I am just remembering the good parts! Joking aside, I think the challenges likely reflect the increasing complexity of today's drugs and formulations – in particular, the increasing proportion of biotherapeutics – which inevitably leads to an increasing portfolio of potential problems. Method transfer from development to QC is also likely to be more challenging. Finally, time and staff pressure may be another driver. I was so interested in this section that I reached out to Michael Dong, Principal Consultant at MWD Consulting, for some perspective: "One of the significant challenges to the separation scientist is the efficient development of stability-indicating HPLC methods for the determination of diastereomers in multichiral new chemical entities (NCEs)."
Whatever the drivers, when I look at those results, I can only imagine the frustration...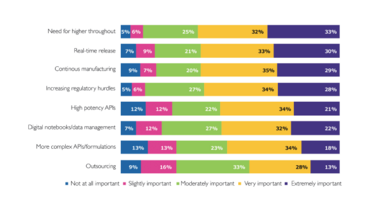 We asked respondents to rank important trends affecting pharmaceutical analysis and QC – did the results (see Figure 2) meet your expectations?
When I look at the data, the top three – real-time release, the need for higher throughput, and continuous manufacturing – are all related to greater speed and/or efficiency – getting the drug out into the world faster. And that is not surprising at all – especially as we try to manufacture our way out of a pandemic.
I was surprised by the fact that outsourcing ended up so low on the list; perhaps it's because it's not considered a "trend" as such but perceived as being in a steady state.
You'd already identified partnerships as a global trend; one survey question explored the types of partnerships organizations are engaging in – any surprises?
As you say, we knew partnerships and collaboration were important to pharma, but I was somewhat surprised by the scale presented in our snapshot!
The fact that a third of respondents partner with other pharmaceutical companies is good to see – and we've seen some very public examples of meaningful collaborations in the huge effort to vaccinate the world.
I was a little surprised to see vendors and suppliers so high up the list. Clearly, everyone has relationships with a number of suppliers – and it is rewarding to see that we have evolved from transactional exchanges to fully-fledged partnerships in people's minds.
The low ranking of contract research and contract development and manufacturing organizations (CROs and CDMOs) had us scratching our heads a little. But when we dug into the data, we found that CROs/CDMOs were more highly ranked by emerging biotech companies than by large pharma, which makes some sense. The relationship between pharma companies and CROs/CDMOs is complex, so we can only make educated guesses as to the reasons. But, for the bigger players, outsourcing a handful of analytical tests may be perceived more as a service than a partnership...
In hindsight, were there any questions you wished you had included?
It's always a balancing act to write a survey which is short and succinct to allow for easy completion but have the depth to actually realize meaningful results. In hindsight, I think we achieved this. If I had it to do over again, I would ask more questions around the trends, possibly digging deeper into automation and digitalization. Also, the issues regarding reproducibility and validation of products would be interesting, since the challenges in those areas seem larger than I expected.
To download your free copy of report, which also explores partnerships, productivity bottlenecks, budgets, and more, click the button below: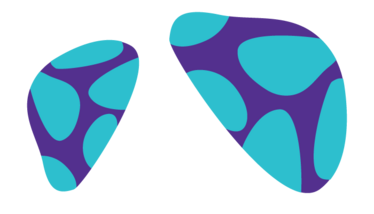 Receive content, products, events as well as relevant industry updates from The Analytical Scientist and its sponsors.