Fields & Applications
Forensics,
Materials,
Spectroscopy
Battle of the Bronze Age
Unraveling encounters on bygone battlefields with fencing (and X-rays)
Matt Hallam | | Quick Read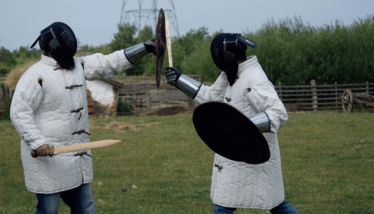 Controlled weapon tests practice. Image courtesy of Andrea Dolfini.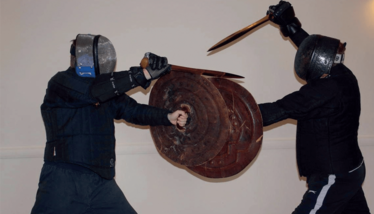 Actualistic weapon tests. Image courtesy of Andrea Dolfini.
Researching combat of the past is no simple task, but the Bronze Age Combat Project is making a good stab at it by investigating markings borne by prehistoric swords. Their first port of call? Recruiting traditional bronzesmith Neil Burridge to cast modern-day replicas of excavated weapons.
Central to their research is the similarity of the sets of weapons. Investigator Quanyu Wang performed compositional analysis using scanning electron microscopy with energy-dispersive X-ray spectroscopy (SEM-EDX) to demonstrate negligible alloy content deviation between authentic and replica weapons (incidentally, 88 percent copper and 12 percent tin); metallography and microhardness testing provided further confirmation of the similarity.

Next (and only slightly less exciting than SEM-EDX): combat tests based on a 15th century fencing manual followed by painstaking microscopic analysis of marks left on weapons.
Of 23 use-related marks observed on archaeological swords, 14 were recreated on the replica swords through testing. "Some can be securely linked to specific combat actions or weapon encounters, such as sword versus spear," says principal investigator Andrea Dolfini. "And this gives us first-hand insight into Bronze Age fencing styles." Let battle commence!
Receive content, products, events as well as relevant industry updates from The Analytical Scientist and its sponsors.
R Hermann et al, J Archaeol Method Theory (2020). DOI: 10.1007/s10816-020-09451-0