Fields & Applications
Mass Spectrometry,
Forensics,
Environmental
Cretaceous Catastrophe
Was the Chicxulub asteroid solely responsible for dangerous changes in the prehistoric chemistry of our oceans?
Jonathan James | | Quick Read
The Cretaceous-Paleogene (K-Pg) mass extinction (perhaps more widely known as "the end of the dinosaurs") is almost exclusively attributed to the collision of the Chicxulub asteroid with Earth in popular culture. This collision – visible in the Chicxulub crater of modern-day Mexico – may not, however, be solely responsible for the extinction event that ensued. In fact, the contribution of other factors, such as volcanic activity – and resulting changes in ocean composition – remain poorly defined. Now, by analyzing ancient mollusk fossils, researchers have strengthened the hand of those arguing that the variable Earth's oceans were undergoing significant acidification and mineral saturation changes long before the infamous impact (1).

Ocean acidification, driven by CO2 saturation, lowers the carbonate concentration in seawater – a change that encourages numerous organisms (including mollusks) to alter the stable isotope composition of their mineralized tissues. Employing a double-spike method coupled with thermal ionization MS (2), the researchers quantified the calcium isotope ratio (δ44/40Ca) within mollusk shell samples spanning the K-Pg boundary. "We observed shifts in composition that were significantly larger than predicted," says Ben Linzmeier. Interestingly, these changes began hundreds of thousands of years prior to Chicxulub's impact. "This is a timescale consistent with changes in isotope fractionation driven by volcanism, rather than as result of shifts in the composition of the global ocean."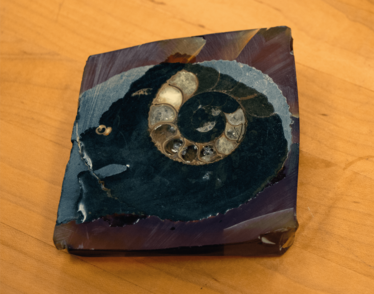 The likely culprit? The Deccan Traps – a large volcanic plateau in today's Central India, thought to have formed hundreds of years before Chicxulub ripped through our atmosphere. "The causes and consequences of mass extinctions are complex," says Linzmeier. "Our work supports a larger body of evidence that the combined effects of volcanism and bolide impact were responsible for the extent of the K-Pg event."

And though this is unlikely to offer much consolation to children's most beloved creatures, the research could have significant modern-day impact. "Our findings could allow us to better predict how anthropogenic CO2 will affect ocean geochemistry in the future," says Linzmeier. To this end, the team are looking towards mollusks grown in controlled conditions to expand our understanding of the relationship between the calcium isotope fractionation of their shells and the carbonate saturation state of the modern ocean.
Receive content, products, events as well as relevant industry updates from The Analytical Scientist and its sponsors.
B J Linzmeier et al., "Calcium isotope evidence for environmental variability before and across the Cretaceous-Paleogene mass extinction", Geology, 1, 34 (2020). DOI: 10.1130/G46431
Lehn GO et al., "Precise analysis of Ca isotope ratios (δ44/40Ca) using an optimized 43Ca–42Ca double-spike MC-TIMS method", Int J Mass Spec, 351, 69 (2013). DOI: 10.1016/j.ijms.2013.06.013