Fields & Applications
Clinical,
Proteomics
Deep Visual Proteomics
How a new method could transform our understanding of cancer evolution – potentially exposing tumor vulnerabilities
Margot Lespade | | News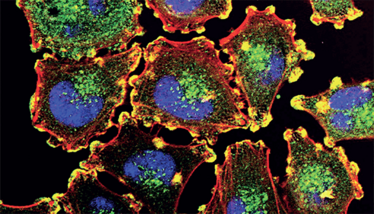 A combination of artificial intelligence (AI) image analysis, laser microdissection, and ultra-high sensitivity mass spectrometry – dubbed "Deep Visual Proteomics" (DVP) – is allowing researchers to characterize thousands of proteins from single cell types while preserving spatial information (1).

"It is useful for a wide range of purposes – from better understanding the function of cell heterogeneity in basic research to diagnosing and treating disease processes in the context of clinical pathology," says lead author of the study, Andreas Mund, who is an associate professor at the Novo Nordisk Foundation Center for Protein Research, University of Copenhagen.

So how does it work? "DVP uses AI-based image analysis to identify cells or cellular regions of interest, which are then isolated by automated laser microdissection," explains Mund. "We then use our single-cell proteomic sample preparation and ultra-high sensitivity mass spectrometry workflow. Based on the proteomes, we then assign cell functions to the imaging data. This uncovers a 'microcosm in a single slide' and reveals therapeutic vulnerabilities at different stages of tumor development."

When examining the spatial distribution of a primary melanoma, DVP revealed how the proteome of normal melanocytes evolved as they become invasive melanoma cells within the same tissue slice. With this information gleaned from a single tissue slice, the researchers believe they will be able to reveal the mechanisms driving tumor development and expose new therapeutic targets.

DVP is clearly powerful, and Mund hopes others will benefit – in time: "We are now putting a lot of effort into making our tools user friendly and accessible to a wide range of researchers, but it is still an ongoing challenge."
Receive content, products, events as well as relevant industry updates from The Analytical Scientist and its sponsors.
A Mund et al., Nature Biotechnology, 1 (2022). DOI: 10.1038/s41587-022-01302-5