Fields & Applications
Mass Spectrometry,
Clinical
Elemental Creativity
Sitting Down With... R. Graham Cooks, Henry Bohn Hass Distinguished Professor of Chemistry, Aston Laboratory of Mass Spectrometry, Purdue University, USA.
R. Graham Cooks |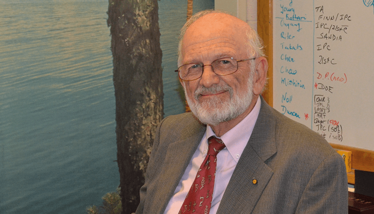 Why did you go into mass spectrometry?
During my PhD at Natal University in South Africa, we were visited by Carl Djerassi. I was doing natural products research at the time, and told him I wasn't making much progress in finding the structure of a certain alkaloid using chemical methods. He asked me for a sample, took it back to Stanford, and recorded a mass spectrum. Ten days later my professor received an air letter with the structure. It was obvious that I had to work with mass spectrometry after that!
What was mass spectrometry like back then?
Well, when I went to the University of Cambridge in 1965 to continue my PhD studies, there weren't any commercial mass spectrometers – just home-built systems. A commercial instrument came soon after I started – and so I got to use one of the first – it wasn't until the instruments of this time that organic chemistry and MS first properly "met," and measurement of exact masses was accepted as a substitute for CHN elemental analysis.
What does your research group focus on?
We work on instrumental development, but that's really a means to an end. One of the merits of analytical chemistry is that it's at the center of all chemistry – almost anything is fair game. You could say we mostly do measurements – but it wouldn't be true. We don't simply record mass spectra (that's just the tip of the iceberg), and we seldom do classical chemical analysis. We work much more on reactions, and on disease diagnostics with MS, to infer in vivo properties of biological systems. We also study the chemical reactions of charged with uncharged species in and on the surface of microdroplets.
What do you most enjoy about your work?
I love that my research group is essentially a band of hunter-gatherers, seeking out information and monetary resources. Internally, we're seeking to understand, or waiting for inspiration... But maybe the biggest surprise to me in my career is the amount of external hunting required; we cross the globe to exchange information about research. It's a strange way to hunt, but it strengthens a shared enterprise.
How has research changed throughout your career?
Being an academic used to mean being semi-cloistered – to give you the time and leisure to think. As research became a larger component of society and a major part of the economy, it could no longer be ignored or left "uncontrolled." People came to depend on the state for funding, and so research became woven into the control mechanisms that run the rest of society. It's a very different enterprise now, and not without benefit – the successful implementation of ideas for societal good is definitely something to be welcomed.
What's the main contribution of mass spec?
It has evolved into the major methodology in analytical – and pretty much all of biomedical – science. The reasons are simple. If you've got charges on molecules, you can handle them, move them around and measure them much more easily; that fact, plus the sensitivity, broad applicability and high specificity with which you can identify particular species means that MS has huge potential, only some of which has been realized. For example, we are just starting to see the emerging capabilities of MS in making medical diagnoses in the clinic.
In my lab we are focused on intrasurgical tissue analysis using desorption electrospray ionization mass spectrometry. It's the easiest type of MS imaginable; low resolution, low performance, simple single-stage instrumentation, and yet you get a huge amount of information from the distributions of lipids and other small molecules. Diagnosing the disease state of brain tissue during brain surgery in a couple of minutes is actually "state of the art" – but it's done with instrumentation several generations behind.
How do you envisage the next few years?
I would say one big change is that MS will transition from being a predominantly analytical technique to a synthetic technique. Unlike other forms of spectrometry or spectroscopy, MS is based on matter, which happens to have charge. It can be individual atoms and collections of molecules, or it can be organized collections of proteins. It's only natural that MS should be an important component of bond-forming chemistry. People may dislike the term "mass spec synthesis," but it emphasizes its versatility. I think that this is one of the major directions in which MS will go – it will begin to shed its purely analytical cloak and take on others.
You have said before that unhappiness makes for a successful inventor…
I've always found research to be extremely emotional – a world apart from the cold and rational stereotype of the scientist. Grappling with problems, as well as concepts and ideas you'd like to make a reality, sometimes takes a long time; for example, we first tried ion soft landing in 1976, but it wasn't till the 1990s that we were successful. We also worked on surface-induced dissociation, which was laughed at for decades, but has now been found to have really important applications. There is an emotional drive that comes from getting difficult experiments to work – and an equally strong emotional reaction when you fail. Musicians or poets occasionally succeed in saying something – but most of the time they don't. The same could be said for scientists. I have always been agnostic as to discipline. I'm happy for any measure of creativity – whether it's in poetry or mass spectrometry.
Receive content, products, events as well as relevant industry updates from The Analytical Scientist and its sponsors.