Fields & Applications
Clinical,
Environmental,
Pharma & Biopharma,
Spectroscopy
Exciting Times For… Spectroscopy: with Geoff Winkett
Geoff Winkett, General Manager and Vice President of Molecular Spectroscopy at Agilent, discusses developments in molecular spectroscopy and the growth of the biopharma market
Margot Lespade | | 3 min read | Interview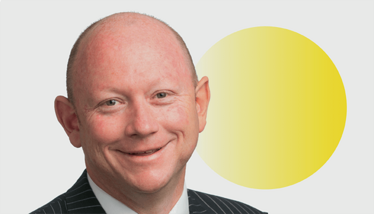 Tell me a little about your background in spectroscopy…

My background and experience are somewhat atypical for an Agilent Vice President (VP) and General Manager (GM). I have a commercial – as opposed to scientific – background; my time with Hewlett-Packard/Agilent over the past 29 years has been in various business finance functions.
I have worked all over the world – including Australia, the UK, and the US – and, after spending five years in California, I returned to Australia in 2011 to take on the role of Chief Financial Officer of Agilent's recently acquired Spectroscopy (Atomic & Molecular) and Vacuum businesses. After taking a lead role in driving the growth of the business' top and bottom lines, I was appointed GM and VP of Agilent's Molecular Spectroscopy business in November 2020.
What is the most exciting development in molecular spectroscopy today?

There are many exciting developments underway in molecular spectroscopy right now, but one area of particular interest is growth in the biopharma market. Given the amount of investment going into biologic drugs, there is a strong belief that large-molecule pharma will outweigh traditional small-molecule pharma in the years to come. This creates a significant opportunity (and challenge!) for molecular spectroscopy products to support customers in this area with their testing needs.
Molecular spectroscopy solutions based on techniques such as Fourier-transform infrared (FTIR), fluorescence, ultraviolet-visible, and Raman spectroscopy can complement other techniques such as high-performance liquid chromatography (HPLC) in multiple areas of the biopharma value chain, from early discovery all the way through to quality assurance (QA), quality control (QC), and production. Such techniques are powerful tools for application areas such as protein quantification, protein stability, oligo QA/QC, raw materials identification, and more – uses that can help customers in the molecular spectroscopy field improve time to market, reduce the cost of ownership, and ensure compliance with regulatory bodies.
Another key area of development is the role molecular spectroscopy plays in detecting and monitoring key environmental challenges, such as the consumer-led concern around microplastics. The infiltration of plastics in our environment and their impact on human health has been a hugely important topic in recent years. As a result, we've seen increased demand from customers who need to be able to identify these particles in water supplies.
We've discussed exciting developments, but what major challenges is the field facing today?

Significant challenges laboratories and analytical scientists face are data integrity, security, and compliance with regulatory authorities' requirements. These are complex, quickly evolving areas and customers need to have peace of mind when using testing equipment. As a result, we have made key investments to help our customers navigate these challenges. In fact, we recently released an updated version of the software behind our Cary 3500 UV-Vis spectrophotometer, which builds controls around signatures, access administration tools, electronic signature workflows, and audit trails into the software – a reflection of the industry's increasing data security concerns.
Any advice for an early-career spectroscopist?

Regardless of the discipline, my advice for anyone early in their career is not to restrict yourself to one area – instead, get as much experience in as many fields and disciplines as possible. I am a firm believer in backing yourself and trying something different.
In fact, I think people early in their careers should look for opportunities to gain international and cross-cultural experience. One of the best career decisions I ever made was to spend time working in different countries. Though it was extremely challenging at times, I learned so much from these experiences that I am convinced I would not be in my position today were it not for those bold moves. After all, we are operating in a global environment – these experiences are invaluable!
On a related note, focus on building your network of contacts both internally and externally. Seek out opportunities to meet and connect with other people, particularly in leadership positions. These networks will be vital not only to help equip you in your current role, but also to facilitate the advancement of your career in the future.
Receive content, products, events as well as relevant industry updates from The Analytical Scientist and its sponsors.