Fields & Applications
Spectroscopy,
Microscopy,
Environmental
If I Could Turn Back Time...
Analytical scientists solve the mysterious case of the Finnish Clock
Joanna Cummings |
Measurement science can provide a wealth of information about materials, degradation pathways, and manufacturing techniques of historical artifacts, as well as assist with provenance studies and restoration monitoring. And if you want to analyze valuable or immovable artifacts in situ and with minimal destruction, portable Raman and X-ray fluorescence (XRF) spectroscopy are the tools of choice – which is why a collaborative team from Helsinki and the Basque Country used them to analyze the clock faces of a Government Palace in Finland's capital (1).
The two clocks were a dirty white when renovations of the palace began in 2004. Conservators were keen to restore them to their original color – but what was it? A research group at the University of the Basque Country (UPV/EHU) collaborated with Raili Laakso (a PhD student at the University of Helsinki) to find out.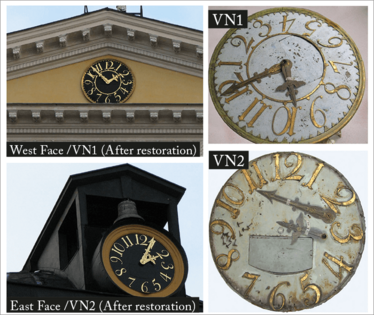 Group leader Kepa Castro specializes in chemical analysis of cultural artifacts and the impact of environmental pollution on cultural heritage – steel sculptures, ancient ceramics in Pompeii, and wall paintings, to name a few. In this case, the Helsinki contingent wanted to discover the pigments used on the clocks over the years – and began to peel back history, layer by layer. The team analyzed cross-section samples to discover that multiple layers of paint have been applied to the clock faces over the years – but the original color was black.
Translating laboratory advances into field science has been a boon to cultural artifact analysis – and something that Castro says has only become possible in recent years. "With XRF, we can identify the elemental composition, with some limits – and this gives us an initial idea of the nature of the artifacts," he says. "Then Raman can be used in parallel to obtain the molecular composition." But Castro also notes that the in-situ approach has its limits: "We can only reach the surface of the artifacts with XRF, but in this case we needed to study the layers beneath, a stratigraphy – and, for that, sampling is indispensable." At this stage, they took the same scientific approach back to the lab, with the addition of scanning electron microscopy, Raman microscopy and infrared spectroscopy.
Castro believes that a combination of different analytical techniques is crucial for success. "All manner of analytical techniques have been applied in this field, from classical chemical tests to synchrotron radiation, but on very few occasions will the analysis of an artifact using a single analytical technique be really successful," he says. "Fortunately, we now have more access to standard analytical techniques – made possible thanks to improvements in technology, to the birth of computing, laser technology, sensoring, and so on. These things were science fiction in the 1950s!"
Visitors to Helsinki can now see the restored clock faces, just as they would have looked when the palace was built in 1822.
Receive content, products, events as well as relevant industry updates from The Analytical Scientist and its sponsors.
K Castro et al., "Spectroscopic analysis used to uncover the original paint color of the Helsinki Government Palace tower clock faces", Herit Sci, 4, 36 (2016).