Fields & Applications
Spectroscopy,
Materials
Keeping it Real
Regulation of raw material identification in cosmetics using handheld Raman
Valerian Ciobotă |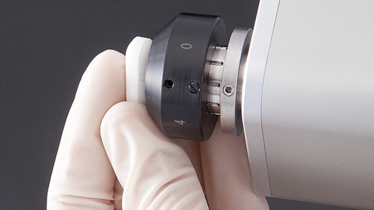 Cosmetics comprise different chemical compounds, some of which come from natural sources. False claims over ingredient quality and any adverse reactions such as skin irritations caused by incorrect formulations can have severe consequences for manufacturers and suppliers of cosmetic products. In recent years, regulatory requirements for the manufacturing of cosmetic products have increased to ensure consumer safety.
Manufacturers can expect to see further stringent regulations soon due to a bill proposed by the FDA, which is currently pending legislation.
The EC Cosmetic Regulation 1233/2009 of the European Parliament and Council requires all cosmetic products in the EU market to be manufactured according to Good Manufacturing Practices (GMP) described by the ISO 22716 standard. In addition, the International Cooperation on Cosmetic Regulation (ICCR) – a joint effort by the US, EU, Japan, and Canada – agreed to implement ISO 22716 in their respective regions, wherever possible. To meet these increasingly strict quality assurance and quality control measures, manufacturers need to be able to identify raw materials quickly and accurately.
Essential oils such as anise, patchouli and peppermint are widely used in cosmetic products. There are a number of techniques such as GC/MS and HPLC/MS used to identify these raw materials. However, while these are powerful analytical techniques, the high cost of the systems and requirement for highly skilled operators results in a higher cost per analysis. In addition, the time consuming methodology and complex data does not produce simple pass/fail results, which is needed to quickly ensure the authenticity of a material.
Handheld Raman provides a practical solution to answer whether raw materials are genuine or not. Non-destructive and able to identify very small quantities of materials, this technique allows cosmetic manufacturers' to collect smaller samples. Materials can be accepted or rejected upon receipt at the loading dock or warehouse, thereby streamlining workflow requirements by allowing materials to be put into production faster. Another benefit of handheld Raman is that it can be used throughout the manufacturing process. In-process control testing during post packaging operations, final release testing and receipt ID testing of finished goods are other applications for use of this technology. Plus, it can be used by non-technical operators, does not require consumables or consumable disposal, and has minimal maintenance or instrument clean-up.
However, the analysis capabilities of handheld Raman vary. One common frustration for users of handheld Raman analyzers with a 532 nm or 785 nm excitation wavelength is fluorescence interference when analyzing materials such as some oils and most highly colored materials. This reduces the efficiency of the raw material identification (RMID) and can cause unnecessary delays and uncertainty in the manufacturing process.
In one study, a handheld Raman analyzer utilizing a 1064 nm excitation laser wavelength was used to measure twelve different types of essential oils. The Progeny (Rigaku Analytical Devices) handheld analyzer is designed to overcome issues of fluorescence interference that affect traditional shorter wavelengths. The 1064nm laser also enables raw materials to be measured through containers and packaging such as plastic bags, thin plastic, clear glass and amber glass bottles. The device can also deliver pass/fail results within seconds, helping to avoid lengthy delays incurred when sending samples to off-site laboratories for testing.
The 1064nm handheld Raman device collected 45 spectra of each of the 12 essential oils over a period of three different days. In every analysis, the oil was identified correctly by the device. One sample, basil oil adulterated with 20 percent soybean oil, was also used to test the instrument's capabilities. The 1064nm handheld Raman accurately distinguished between the pure basil oil and the adulterated basil oil.
The results of this study demonstrate the analytical advantages of using handheld Raman 1064nm laser excitation over analyzers utilizing lower excitation wavelength analyzers such as 785nm or 532nm. The implementation of 1064nm handheld Raman delivers a number of advantages for cosmetics manufacturers. It is now possible to perform lab-quality analysis at any point during the production process, which enables the stronger quality programs necessary to meet regulatory requirements.
Receive content, products, events as well as relevant industry updates from The Analytical Scientist and its sponsors.