Fields & Applications
Pharma & Biopharma
Lab-on-a-Sheep
Sitting Down with Sue Lunte, Ralph N. Adams Institute for Bioanalytical Chemistry, Departments of Chemistry and Pharmaceutical Chemistry, University of Kansas, USA.
Richard Gallagher |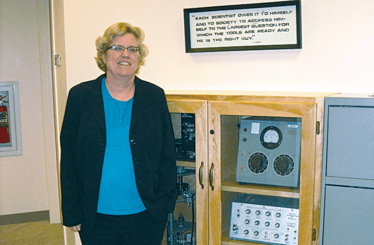 We have to start with that title. Do you mean it?
It started years ago at a talk by Jim Jorgenson on coupling liquid chromatography and capillary electrophoresis: I remember thinking, "Maybe we could use the same approach to couple microdialysis and capillary electrophoresis". Ten years later, things had been miniaturized and we took advantage by putting it on a freely-roaming animal. We can probe blood or the brain; our current project monitors neurotransmitters in the brain of sheep. Our goal is to simultaneously monitor neurotransmitters and behaviour, the latter using time-stamped video. So you can look for spikes in dopamine and relate it to the animal's behaviour.
It sounds like a project that will attract attention
We've had a lot of interest from people who study behaviour, but we've also had discussions about using the approach in hospital intensive care units to monitor people with traumatic brain injury – it has potential to be developed as a portable device to assess changes in neurotransmitter concentration. That summarizes what's really great about analytical chemistry: when you come up with something there's usually more than one application for it.
I am in charge of the Ralph (Buzz) Adams Institute. He went from fundamental electrochemistry to developing analytical instrumentation to look at neurotransmitters in the brain. He had a sign in his lab that said "Each scientist owes it to himself and to society to address the largest question for which the tools are ready and he is the right guy." We've put that in a prominent position in the Center because it's really important that researchers think about the impact of their work on the world.
Is that why Analytical Methods, for which you are Editor-in-Chief, requires authors to include a statement on societal impact when submitting a manuscript?
That was the decision of the editorial board. We wanted to differentiate ourselves from other analytical journals, and saw solving real-world problems as the way to go. Other journals can have the first demonstration of new techniques (often under very controlled circumstances); we are interested in the application of rugged techniques to real problems. It gives us a particular flavor. Actually, we don't publish the societal impact statements, but it might be a good idea.
Your career has been at the interface between chemistry and biology. Which are you?
I am a chemist. I was a chemistry major and, while I work at the interface, I see things from a chemist's point of view. The difference is in the attitude to quantitation: Chemists have a need to get at absolute quantities of things while biologists are trying to solve puzzles at the level of a system and are only interested in quantitation to the extent that it helps elucidate their system. Does it light up or not, that's what they want to know. The problems in biology are really interesting to me and it can be a lot easier to see the fruits of your labor as the work is often directly applicable to problems of health and disease.
When did your interest in science begin?
It feels that I've always liked it. I had good teachers; even at elementary school I attended nature club. I grew up in Detroit and my parents, who are not scientists, enrolled me in science courses at the Cranbrook Institute. At high school, chemistry was my favorite subject. What fascinated me was that it was so quantitative: if you took so much of one chemical and so much of another you could predict how much of a product chemical would be produced.
How would you assess the position of women in analytical science?
Things have changed over the years. When I was a grad student, only five or six of the sixty graduate students were women; today, our classes are more than 50 percent women. In the generation before me, a lot of the female professors of chemistry were single their entire life, they had to be married to the job. Now, you see a lot of dual-career couples, both faculty members. Things have gotten better but the fact that your Power List only had eight women shows that there is some way to go. Hopefully ten years from now, that will have gone up to 30.
Can you tell us about your Center of Biomedical Research Excellence?
COBRE grants are given by NIH to improve infrastructure and to mentor young faculty in states that receive lower levels of funding. Our center integrates analytical chemistry, engineering, molecular biosciences, and genomics through three core labs: microfabrication/microfluidics; molecular probes and model organisms; and next-gen sequencing. We have eight funded researchers who we are mentoring to apply for RO1 grants.
What are the advantages and disadvantages of being in a smaller academic institute?
It is different. We have a very collaborative environment that encourages interactions between scientists from different disciplines. Almost all my NIH grants are multi-investigator, including a biology expert, an instrumentation expert, and so on. The campus is not huge so it's easy for people to get together and work together. Egos don't get in the way too much here.
Receive content, products, events as well as relevant industry updates from The Analytical Scientist and its sponsors.