Fields & Applications
Clinical
Macrofluidics Meets Pathology
Biopsy tissue sample preparation in a tube promises to be cheap, fast, reproducible and automated
Rich Whitworth |
University of Washington (UW) scientists and engineers are working on a low-cost device that will help pathologists diagnose pancreatic cancer faster. The first-generation device is extremely simple (see photograph). It uses a fluidic transport system to expose a needle biopsy tissue sample to the sequential steps involved in fixing and staining samples for diagnosis.
The team presented its initial results at SPIE Photonics West 2014. We spoke with Ronnie Das, a UW postdoctoral researcher in bioengineering and lead author on the related paper (1).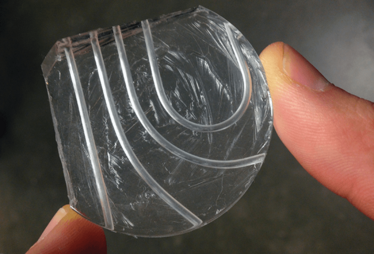 The manufacturing process seems very simple – like making jello in a mold...
Yes. It is a very simple process that lends itself to quick fabrication and modification of channel designs. The curved, circular channels are, to our knowledge, the first of their kind, especially as we are transporting large pieces of tissue.
Is this strictly speaking microfluidics as noted in the paper?
The total volumes of the solid samples we're dealing with are 0.5-3.0 mm3. To hardcore microfluidics experts this could be considered "macrofluidics" but I'd say it still fits the definition of microfluidics.
What steps are you trying to replicate?
For now, we are trying to replicate in a precise, reproducible fashion the very basic steps of pathology, which are chemical fixation of the tissue, staining of the tissue with a histological dye, and optically clearing the biospecimen.
How will the device be coupled to imaging?
Currently, we are attempting to flow tissue from the device to the 3D imaging platform. Future designs under consideration will incorporate onboard optics or even include an interface for smart phone cameras to collect imaging data.
How far away is a fully working prototype?
This current design is rudimentary and proof-of-concept. Humbly, I believe with sufficient resources that a fully working prototype could be developed in a year or two. But perhaps my lab director may have a more accurate time line!
What challenges do you foresee along the way?
The actual cancer diagnosis. Sure, the technology is great, but ultimately we are servicing medical doctors, pathologists and clinical professionals, who make the the hard call. The challenge is simple: our device must be able to reproduce exactly what pathologists are used to seeing on a daily basis, by matching or emulating the traditional processes that have been established for nearly half a century.
Have you identified other potential applications?
On a strictly brainstorming level, large tissue sample processing could be employed for a variety of cancers, and in other areas of pathology. For now, we are focusing on pancreatic cancer because it is such a terrible disease; helping these patients in any way is a win.
Receive content, products, events as well as relevant industry updates from The Analytical Scientist and its sponsors.
Ronnie Das et al., "Pathology in a Tube: Step 1. Fixing, Staining, and Transporting Pancreatic |Core Biopsies in a Microfluidic Device for 3D Imaging", Proc. SPIE 8976, Microfluidics, BioMEMS, and Medical Microsystems XII, 89760R (2014).