Fields & Applications
Micro/Nano-scale,
Clinical,
Translational Science
Malaria Diagnosis in Hand
Point-of-care tests with smartphone analyzers could transform detection of the killer disease in resource-limited settings
Lauren Robertson | | Quick Read
The need for simplified, low-cost, point-of-care testing (POCT) systems that can diagnose infectious diseases quickly in resource-limited settings is ever-present. Developing reliable POCT diagnostics could lead to earlier detection, improved treatment, and streamlined outbreak prevention. Ideally, such a platform would make use of a user-friendly analyzer to perform data acquisition, analysis, transmission, display and storage – capabilities supported by today's smartphones.

Chong Ahn and colleagues have developed a novel microchannel capillary flow assay (MCFA) platform that can be linked with a smartphone analyzer for malaria diagnosis in developing countries. The MCFA uses chemiluminescence-based sandwich enzyme-linked immunosorbent assay to detect Plasmodium falciparum histidine-rich protein 2 (PfHRP2; a known malarial biomarker) at concentrations as low as 8 ng/mL in serum samples. Optical signals indicating the presence (or absence) of PfHRP2 is then fed to the linked smartphone by a high-sensitivity detector in real-time; the detector is, in turn, powered by the smartphone.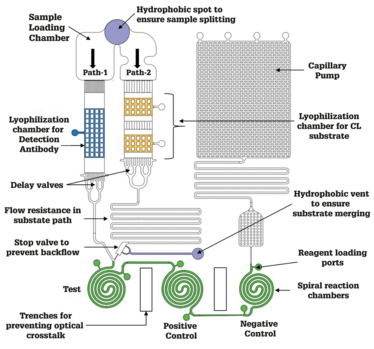 Each of the system's three components has been carefully selected. "The lab chip is not only cheap and disposable, but can also perform autonomously with minimal user intervention," says Ahn – and this ensures ease of use regardless of technical acumen. "A smartphone then exhibits all necessary features of an analysis system, with a touch-controlled screen, high-speed processor, communication ports, wireless connectivity, storage media and rechargeable battery," he explains. Smartphones are – of course – ubiquitous, even in developing countries.

What's more, the system can be customized for the detection of different disease biomarkers – after necessary improvements to the currently achievable limit of detection. Looking forward, Ahn highlights plans to develop a totally autonomous MCFA chip for biomarker detection from whole blood, in addition to modifying the current system for the diagnosis of common mental health disorders, such as stress, anxiety and depression. "Measurement of biomarkers for common mental disorders may provide a reliable means of evidence-based diagnosis," he says. "We plan to develop a platform that combines a smartphone with polymer lab-on-a-chip devices for POCT of psychochemical stress biomarkers in saliva, while simultaneously collecting patient-reported psychosocial data."
Receive content, products, events as well as relevant industry updates from The Analytical Scientist and its sponsors.
S Ghosh et al., Microsyst Nanoeng, 6, 5 (2020). Available at: https://go.nature.com/3a0YTIP