Fields & Applications
Clinical
Illuminating Diagnostics
Pooja Pathak from LumiraDx discusses all things point-of-care diagnostics, how exciting advances in analytical science are addressing vital diagnostic needs, as well as the future of healthcare
Margot Lespade | | 5 min read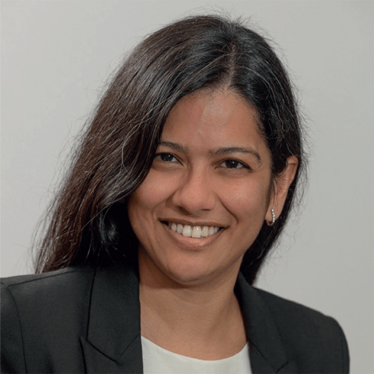 Can you tell me about your background and the origins of LumiraDx?

I am a chemical engineer by training, with a passion for building things and problem-solving. I started my early career in cancer research at Massachusetts General Hospital and later spent time in consulting and private equity, working with several dozen life science companies from startups to Fortune 500s.

I work in the field of diagnostics – specifically, point-of-care diagnostic testing (POCT) – because I want to build and market products that will enhance patients' lives through fast, accurate, affordable, and convenient care. This led me to join LumiraDx in 2020 as Chief Product Officer responsible for product management, marketing, medical affairs, and communications.

LumiraDx was founded in 2014 by a group of POCT pioneers with more than three decades of success building diagnostics and health IT businesses between them and a collective commitment to holistically addressing patient needs through technology.
Are diagnostic companies expanding their focus beyond COVID-19?

COVID-19 exposed the need for fast and accurate diagnostics to address the many different testing needs in both professional healthcare and alternative settings such as schools and workplaces. The pandemic introduced tremendous innovation and investments in R&D manufacturing that are now being leveraged to drive further development of diagnostic technologies. Many diagnostic companies are now focused on developing a broader set of tests to bring to market, which will be useful in community care settings.
How will point-of-care diagnostics impact the future of healthcare?

POCT enables access to information when and where it is needed and will continue to improve health outcomes in the future far beyond the COVID-19 pandemic. Antimicrobial resistance is an increasing global concern, with a recent UK study showing 20 percent overprescription of antibiotics (1). CRP POCT has been shown to reduce the rate of antibiotic prescription.

HbA1c testing is another example representing a key marker in diabetes management. HbA1c POCT allows physicians to determine diabetic patients' long-term blood sugar levels so that they can discuss the results during the patient's visit. Finally, POCT for flu and RSV can help differentiate between respiratory conditions and guide treatment. In the future, as the POCT menu continues to expand, it will increasingly enable providers to make key healthcare decisions in real time.
Broadly, how can analytical science enable point-of-care diagnosis?

First, using actively controlled microfluidics technology has enabled significant improvements in performance, utility, and cost. By designing diagnostic systems where one can precisely control fluidics, temperature, reaction, and detection, it is possible to achieve much higher POCT performance with the flexibility to run different technologies such as immunoassay, molecular, and enzyme testing. Additionally, working on a micro scale requires less material, which leads to easier sample collection from patients and lower reagent costs.

Another example would be the application of machine learning to accelerating and scaling new POCT product development. Our system captures hundreds of input and output parameters in each experiment as we iterate to improve test performance. With 12 tests now developed on the same platform, we have a robust test dataset we can apply to quickly design and develop new assays.

Finally, the development of new reagent manufacturing techniques and synthetic materials has allowed us to move away from natural raw materials, which are challenged by uncertainty in terms of quality and supply. This has improved POCT reliability.

Many recent advances in science, engineering, computing, and analytics have enabled the broader use of POCT. Now, our mission is to increase access to care and bring testing closer to the patient. We hope that our technology – and analytical science in general – has the capacity to transform community-based healthcare and, ultimately, improve the lives of patients around the world.
More about the LumiraDx Platform…
By Pooja Pathak
The LumiraDx Platform is a next-generation POCT system that condenses the capabilities of large laboratory analyzers into a portable instrument. The platform is designed to run multiple tests across different types of diseases, technologies, and specimen types, including immunoassay, enzyme, and molecular technologies on a common strip architecture.

Once a single droplet of a specimen (including nasal and blood samples) is detected on the test strip, the active microfluidics take over, distributing the specimen into channels so that it can mix with reagents and multiple assays and an onboard control can run simultaneously.

If we use our SARS-CoV-2 antigen test strip as an example, the two assay particles – one magnetic and one fluorescent – bind to any target antigen present to create a sandwich complex. In the reading zone, a magnetic field then grabs a hold of sandwich complexes while an air wash removes residual sample and unbound fluorescent particles. This ensures a clear signal for optical determination of whether or not the antigen in question is present in the specimen. The instrument and test strips also have integrated quality control checks to ensure that the equipment functions properly for every test.

The Platform offers patients and providers diagnostic data at the point of need, allowing them to take preventative care measures – as opposed to needing long-term treatment as a result of delayed care. It offers high performance, portability, and simplicity at a low cost, making it especially useful for underserved communities in low- and middle-income countries (LMICs). For this reason, we have received several investments from the Bill and Melinda Gates Foundation (BMGF) to enable the development, commercialization, and supply of certain POCTs to LMICs.

Through our partnership with BMGF, and with support from The Mastercard Foundation and The Rockefeller Foundation, LumiraDx has delivered 5,000 instruments to 49 Africancountries since November 2020, meeting an intense COVID-19 surge with an immediate solution to testing challenges. Bill Gates even endorsed our platform in his new book, How to Prevent the Next Pandemic, as a key element of national detection and response systems, presenting a compelling case for an expert network of Global Epidemic Response and Mobilization teams to coordinate rapid responses to emerging outbreaks.
Receive content, products, events as well as relevant industry updates from The Analytical Scientist and its sponsors.
Public Health England: Press Release (2018) Research reveals levels of inappropriate prescriptions in England. Accessed on December 21, 2022.