Fields & Applications
Sample Preparation,
Mass Spectrometry,
Food, Beverage & Agriculture,
Environmental,
Forensics,
Materials,
Petrochem
The Solution Evolution
Agilent Technology's Markets and Applications Programs – MAPs for short – connect you to a growing network of expertise to provide working solutions for your analytical business.
Rich Whitworth |
sponsored by Agilent Technologies
Welcome to a service that redefines the term 'solution'; a service that doesn't just take you one step ahead of current offerings, it takes you several leaps beyond.
The Markets and Applications Programs (MAPs) integrate application experts (both internal and external), Agilent's leading instrumentation, and a total commitment to support your laboratory's needs. The goal is to maximize your efficiency: instead of wasting time adapting your new instrument to its intended task, Agilent's effective and efficient team will assist you. They will help develop an application that meets your analytical goal or solves your measurement problem: MAPs is the very definition of 'solution.'
To provide this remarkable service, Agilent has recruited the best independent experts in each of the five market sectors and, by integrating with in-house know-how, forged it into a network with a single purpose: application development. This MAPs team is ready and willing to solve your analytical needs.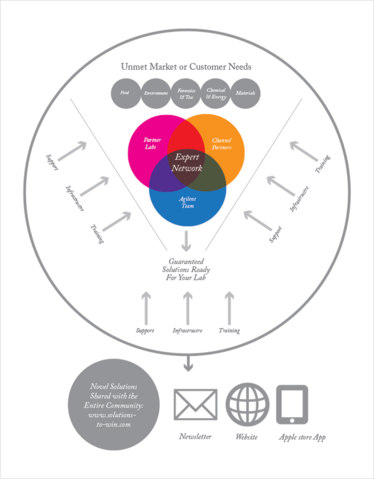 MAPs defined
To present the full scope of MAPs, Armando Miliazza (MAPs Manager) and Marco Zanotti (Partner Labs Manager and Food Market Manager) describe the network, its goal, and their passion.
The expert network
How did it all begin?
Marco Zanotti: The obvious truth is, we are an instrument manufacturer. And while we are very good at what we do, our customers are interested in buying applications – not boxes. Customers don't buy a new gas chromatography system because they want a shiny new instrument in the lab; they buy a new GC because of its analytical abilities. A general trend of all markets is the increasing volume of analytical load, which has shifted the experience level of users. Today, supplying a box is not enough; most customers want and need a full method. Packaging consultancy expertise with our systems was a logical next step.
Though we have a wealth of experience, we don't have in-house application expertise in all market areas – that would be impossible. Instead, we recognized that external consultants, whose knowledge extends from sample preparation to data analysis and includes any overarching regulations or practical issues, would be of huge benefit to our customers. With this in mind, we started building a network of partner laboratories in 2010. Since then it's grown from six to 23 well-respected groups today, meaning we can offer expertise in any application. Pat Sandra's Research Institute for Chromatography is just one of those partners and is a great example of the level of capability to hand (see "High Profile Partners").
Who else is involved in the network?
Armando Miliazza: There are four components: the customer, Agilent, the partner labs described by Marco, and our channel partners. The channel partners offer customization options – both hardware and software – for Agilent systems, for instance, automated sample preparation or complex integration. Acknowledging the need for this extra dimension of support, we developed a much more defined working relationship with our channel partners, placing them under the MAPs umbrella.
With everyone working together in this way, we can avoid overlap and share knowledge across the whole network to offer the customer multifaceted support that meets all of their specific application needs.
We have been developing the MAPs initiative since November 2010. Now, we are excited to be able to share it with our customers. We are ready for any request or challenge!
The passion
Who makes up the MAPs team?
Armando: The core comprises the five market managers (one each for food, environmental, forensics and toxicology, chemical and energy, and materials). Our managers were recruited on the basis that they are highly motivated and very experienced, which means they are able to "speak the right language" – that is to say, they have deep insight into their own specific market area and already understand much of the complexity and many of the challenges that customers face on a daily basis. This level of experience allows them to find real solutions and support customers very comprehensively.
Until recently (before I took on responsibility for the whole program), I was the chemical and energy market manager; before that, I worked for one of Agilent Technology's primary channel partners for over 10 years. That's why I am so passionate about the channel partnerships and what they can bring to MAPs – I've seen the potential from both sides.
Beyond the market managers, we have local 'MAPs champions' in each country, who connect the network together. They know the partner labs and channel partners in their own country, of course, but they are also aware of expertise in other regions, and can direct requests to the right person.
Where does MAPs fit within Agilent?
Marco: It is part of a transparent structure. When a customer requests specific application help or has a demanding project to complete, the local MAPs champion introduces it into the network. Such direct access to our well-structured network means we can address challenging requests much more easily. MAPs allows us to help customers who may not have application expertise in a certain area, but who need to get a particular analysis set up and running in no time at all. MAPs is also perfect for complex projects, where a suite of instruments for a new lab is needed – we offer a full guarantee that that the customer will quickly become productive.
The promise
Could you tell us more about support?
Armando: Providing expertise is just one half of MAPs; the other half is our support function. Historically, the level of support delivered to customers could vary – the same is true for most instrument manufacturers. Now, we've added clarity, in the form of five different levels of solution guarantee. The support team gets involved from the very beginning, and that enables them to identify the necessary resources for each individual solution installation. For example, in our highest-level installations, our partner labs perform robustness tests, validate methods, provide standard operating procedures, and even train the customer and Agilent support team ahead of installation. Such advanced support means that our promises – or our solutions – are always fully delivered.
How is MAPs changing Agilent?
Marco: The culture shift within Agilent has been significant. Application support is very much the Number One goal. With our expert network, we offer top support to our customers, and we also use it to grow the knowledge base of our own support team by learning from each and every installation – and that allows us to take full responsibility.
We have set entirely new expectations; our customers are not buying an instrument they are buying a complete solution, and they not only expect us to install the hardware, but to see it running their application in their lab. We are shouldering a lot of responsibility by offering this level of support, but it is very much in line with the needs of current and future customers.
A finger on the pulse
How do you keep ahead of the game
Armando: We classify each information request, including market area, the most common matrix, and the analytes of interest to discover how people plan to use our instruments, which gives us insight into market – or application – trends. The granularity of our approach has helped distill real market drivers and allows us to focus on developing applications and solutions that our customers really need, instead of relying on a gut feeling. Being so aware of market trends also enables us to have a much closer relationship with our customers and a much deeper understanding of their future requirements.
Marco: A welcome byproduct of working with such a tight-knit network is that any knowledge gained becomes valuable feedback for our R&D department. Sooner or later, customers can expect to see next-generation hardware and software that is very much aligned with market trends and needs. After all, continuing to drive the entire field forward is in everyone's interests.
For more information on MAPs or to sign up for the MAPs newsletter:
www.solutions-to-win.com.
CSI: Italian Pioneer
Customer profile
CSI, despite its shared named with the popular forensics-focused American TV show, is actually an Italian Certification and Behavioral Analysis Center that was founded in the early 1960s and has since become a leader in product certification and qualification. CSI is an early adopter of Agilent's MAPs, and here Daniele Rigoldi from the food packaging materials division explains why CSI chose MAPs and how it benefits the company.
What was your analytical problem?
We were interested in the potential of multi-pesticide residue solution for fruits and vegetables; however, we recognized that the big challenge was not necessarily addressing the long list of target compounds but rather doing so without compromising the sensitivity of the analytical method.
Typically, how long would it take CSI to develop such a solution in house?
That's hard to say, but we would have probably needed at least three months. Thanks to Agilent's MAPs approach we were able to implement everything in just two weeks. That's a huge time saving and, quite clearly, the biggest benefit of all. By shifting focus from the instrument to the solution in hand and applying outside expertise, Agilent were able to fast track method development and get the solution up and running in our lab faster that we had hoped.
Did anything surprise you about the MAPs approach?
I think Agilent's flexibility throughout the process was impressive. It was a very pleasant surprise for the team here.
What was most impressive?
I think this ties in with the flexibility – Agilent's team offered almost constant availability, and that enabled us to interact with them on a profound level.
Describe the impact of MAPs...
Thanks to the speed of implementation of the new solution, we've been able to expand our analytical portfolio faster but crucially, whilst also maintaining high quality. We're confident this will result in higher visibility in the market and, subsequently, direct revenues for our company.
High Profile Partners
Pat Sandra founded the Research Institute for Chromatography (RIC) in 1986. RIC has extensive experience in developing and applying solutions to a broad range of samples and analytes and has been collaborating with Agilent Technologies (or antecedents) for over 30 years. RIC is now very much part of MAPs, so we reached out to Pat, Koen and Tom Sandra to ask how they fit into the expert network.
How and why did RIC become involved in MAPs?
One of our core business imperatives is method development and validation; over the years, we have developed many analytical methods for food analysis, environmental monitoring, the chemical and energy industries, and so on. Our colleagues at Agilent Technologies have, over time, become aware of our unique application expertise, so I think our involvement in MAPs is a logical continuation of our long standing collaboration.
What expertise does RIC bring to MAPs?
The focus at RIC is the development of total analytical solutions. One of our strong points lies in the initial steps (often the decisive steps in terms of the quality of data produced) in the analytical organogram: sampling and sample preparation. This is very complementary to the instrumental portfolio of Agilent and allows us to develop turn-key solutions, including the preparation of standard operating procedures (SOPs) and completion of validation studies. Very often, this is accompanied with an in-depth demonstration at RIC laboratories and the training of technicians both on sample preparation and the instrumentation used.
How does MAPs resonate with RIC's philosophy of "Creating new techniques, finding new applications… Together"?
RIC is primarily a research center; but private research only makes sense (and becomes financially viable) when those new techniques are used for new applications. "Together" means that we must first learn about the new analytical challenges customers are facing – either directly from them or through partners, such as Agilent Technologies and Gerstel. The result is a final solution that is based on our research and the instrumentation of our partners.
In what way does MAPs benefit RIC?
RIC is both a partner lab and a channel partner; depending on our role, we benefit in different ways. As partner lab in MAPs we gain:
excellent visibility within the Agilent organization
access to a network of Partner Labs that allows us to collaborate in fields in which we are less specialized, for example ICP-MS
increased appreciation of our research activities
new contacts
fresh awareness of analytical challenge
As a channel partner, we gain an understanding for:
new region-specific problems
instrumental needs in our region.
Pat Sandra is founder and president; Tom Sandra is managing director; and Koen Sandra is R&D director of Life Sciences and Metablys, all at the Research Institute for Chromatography, Belgium. www.richrom.com
Savvy Channeling
The Channel Partners are the final piece of MAPs. Here, we present a selection that covers an impressive analytical and geographical spread.
Gerstel
Specialty: automated sample preparation and sample introduction devices for GC-MS and LC-MS in food, environmental and forensics.
Location: Germany, with major country distribution.
www.gerstel.com

JSB
Specialty: complete solutions from sample prep to data handling. GCxGC thermal modulation technology.
Location: Austria, Benelux, Germany, Switzerland, UK.
www.go-jsb.com

AC Analytical Controls
Specialty: chromatographic solutions for energy and chemical market.
Location: The Netherlands,
with global presence.
www.paclp.com

SRA Instruments
Speciality: purge and trap, thermosorbers, pyrolizers with chromatography, MS systems, LC-GC and GCxGC.
Location: Italy and France.
www.srainstruments.com

Ingeniería Analítica (IA)
Specialty: Turn-key solutions from a wide portfolio of techniques. Mobile solutions for environmental and forensic analysis.
Location: Spain
www.ingenieria-analitica.com
Receive content, products, events as well as relevant industry updates from The Analytical Scientist and its sponsors.