Techniques & Tools
Spectroscopy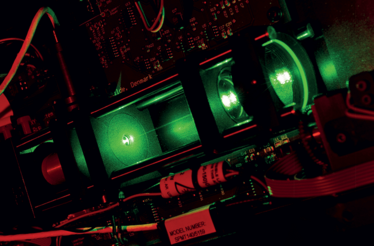 7,000 Years in Tibet
Analyses of fossilized footprints on the central Tibetan plateau suggest that hardy humans resided there up to 4,000 years earlier than previously thought – long before agricultural crops were introduced. A collaborative team used three separate dating methods to analyze sedimentary quartz around imprints found on the site, and estimated that they were made between 7,400 and 12,700 years ago. This image shows a close up of the single-grain attachment with green laser used to measure the luminescence stored in individual sand-sized grains of quartz, one of the methods that allowed the research team to date the prints.
Credit: Laboratory for Luminescence Dating at the University of Innsbruck; photo by Robbie Shone.
Would you like your photo featured in Image of the Month? Send it to [email protected]
Receive content, products, events as well as relevant industry updates from The Analytical Scientist and its sponsors.
MC Meyer et al, "Permanent human occupation of the central Tibetan Plateau in the early Holocene", Science, 355, 64-67 (2017)