Techniques & Tools
Mass Spectrometry,
Translational Science,
Business
A Mass-Perspective
Renã Robinson discusses health disparities in Alzheimer's disease, new mass spec tech, and whether we're moving in the right direction with representation
| 4 min read | Interview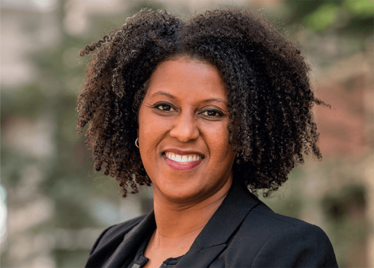 What has been the most significant development in analytical science and mass spectrometry in the past decade?

The incorporation of automation protocols in sample preparation is propelling the analytical science field forward, affecting the entire pipeline, including automated sample injections on mass spec instruments and automated data analysis for informatic platforms.

Particularly in mass spec, instrumentation continues to get better, faster, and more sensitive. There's been an attentiveness from companies and vendors to deliver information to consumers that are using their mass spectrometers in a timely fashion. Because of this, we've seen technologies that have evolved to accommodate faster analyses and more research overall, which has been crucial for my work and for other scientists in the field.
What are you currently working on?

There is a big push for greater knowledge of health disparities in Alzheimer's disease. My current project includes a focus on the link between hypertension and Alzheimer's disease in the African American community. We've been funded with a grant from NIA to learn what protein pathways define hypertension in this population, and how this creates a higher risk of Alzheimer's disease.

We're also looking into the heterogeneity within this community, both in plasma and brain tissue. There are a number of collaborators involved in this project – sharing samples from longitudinal cohorts of African American individuals.

Alongside this, we have other projects looking at different health disparities. One particular angle we're currently exploring is the ABCA7 gene with its great effect size in terms of risk for Alzheimer's disease in the African American population. Through collaboration with colleagues at Meharry Medical College, we are looking at the mechanics of ABCA7 and the downstream impacts on proteins and lipids. Similar projects in my lab take this ideology and apply this to other disease areas such as sepsis.
Do you think things are moving in the right direction for diversity and representation in science?

In the RASR Lab, we've been working alongside other groups across the US to make sure that different groups are represented in the research they're doing. This is a good signal that people are talking about representation and diversity in the field. Even across social media, I can see an increased awareness about these issues, which is a good start in getting people to understand the importance of diversity, equity, and inclusion in analytical science.
Could we be doing more to push this mission?

Absolutely. There's always room for improvement. For example, we can be more transparent about the populations featured in our scientific research. Additionally, we can encourage other researchers to ensure there's diversity in the participants of their study.
What's most exciting within the world of analytical science right now?

I'm really excited about the new technologies and advancements coming out for mass spectrometers. There are also interesting developments in liquid chromatography systems that are helping with throughput issues, standardizing chromatography, and allowing use of short gradients.

Proteomics has been exciting – different mass spec platforms have really taken advantage of data independent acquisition, allowing samples of thousands of proteins within a short timescale. There's a lot to be excited about moving forward.
Back in 2019, you said your priorities were affordability and accessibility for mass spec developments – do you think this is being fulfilled today?

No, I don't think they are. Since then, the pandemic has changed a lot for industries across the globe, including analytical science. With inflation and potential for recession, it's difficult to fund equipment and instrumentation when regular project expenses are taking up all project funds. We still have a long way to go.
What have you learnt during your career in analytical science – what advice would you give to recent graduates?

The most important thing to note is rigor: ensuring that all analytical practices within the lab are completed at a high standard. On a more relaxed note, I've realized how fun science can be if you think outside the box – expanding on problems with mass spec instruments and analytical platforms to learn about the importance of protocols and being robust. It's also important to make strategies to keep up with fast advancements in technology – which has been a fun personal challenge.

Overall, new analytical scientists should act like a sponge and soak up as much knowledge as possible. Regardless of the technique you're using, integrating analytical science across other disciplines could open up plenty of opportunities. Keeping an open mind and not being afraid to step outside your comfort zone is key.

Renã Robinson is Professor and Dorothy J. Wingfield Phillips Chair in the Department of Chemistry at Vanderbilt University, USA.
Receive content, products, events as well as relevant industry updates from The Analytical Scientist and its sponsors.