Techniques & Tools
Mass Spectrometry,
Spectroscopy,
Clinical,
COVID-19
Art Imitating Life
Magic happens when the worlds of science and art collide – as David Goodsell's work detailing biology at atomic-level resolution proves. Join us as we explore a selection of David's paintings alongside the analytical approaches that have gifted us with understanding of their subjects.
Matthew Hallam | | Longer Read
Hello, and welcome to The Analytical Scientist's pop-up art gallery! I'm Matthew – Editor of The Analytical Scientist – and I'll be your guide on today's audio tour. If you'd be kind enough to leave any coats and bags in our cloakroom, I'll begin by sharing a short message from the artist behind the pieces we have on show. Over to you, David Goodsell!

From the artist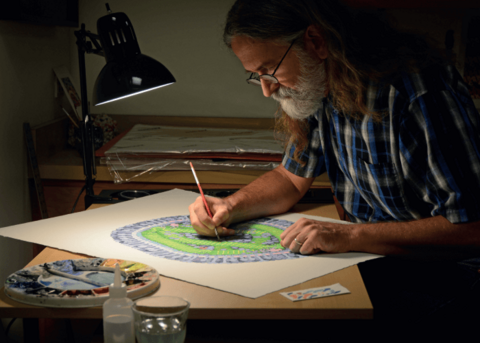 Thanks, Matty. Hello everyone, I'm David Goodsell, Professor of Computational Biology at the Scripps Research Institute, Research Professor at Rutgers University, and an avid painter of biological phenomena – as you'll see for yourself shortly.

I started in the science world long ago, completing my doctorate with Richard Dickerson at UCLA using X-ray crystallography and computational modeling to explore the structure of DNA. I subsequently completed a postdoc with Arthur Olson at Scripps Research; this portion of my studies focused on molecular graphics and methods for computational drug design. My art training, on the other hand, is purely informal.

I am a voracious consumer of scientific imagery, and draw from more inspiring examples than I can count. My early influences are the Golden Nature Guides and Time-Life Science Library, and the wonderful work of Chesley Bonestell, Roger Hayward, Irving Geis, and Jane Richardson. Feeding on these inspirations, I started working on my own cellular landscape during my postdoc. The paintings were a creative way for me to reconnect with larger themes in biology, the structural aspects of which I was becoming so involved with at the time.

In fact, I articulated the aim of these pieces in my first paper on the topic: "A clear picture of the interior of a living cell that shows the average distribution of molecules at the proper scale, the proper concentration, and with no missing parts seems to me to be central to the understanding of the working of life." Today, this remains as the clearest description that I can apply to my work, and I integrate information from the RCSB Protein Data Bank, UniProt, EMDataBank, and primary literature to bring my vision to reality on paper.

Three exhibitions of my work are on show in this pop-up gallery at present. I hope you enjoy viewing each of them as much as I enjoyed producing them. Now, I'll hand back to your tour guide; the first exhibition awaits!

The VAX series

Here it is: the VAX series. This collection hosts paintings that explore the molecular basis of one of mankind's greatest protectors – the vaccine. Let's get started!
Immunological Synapse, 2020
Read the full article now
Log in or register to read this article in full and gain access to The Analytical Scientist's entire content archive. It's FREE!
Login
Or register now - it's free!
You will benefit from:
Unlimited access to ALL articles
News, interviews & opinions from leading industry experts
Receive print (and PDF) copies of The Analytical Scientist magazine
About the Author
Matthew Hallam