Techniques & Tools
Mass Spectrometry,
Microscopy,
Clinical,
Translational Science
Our Research in Images: Body of Evidence
Maastricht MultiModal Molecular Imaging Institute scientists present a selection of images to explain how the power of advanced imaging is delivering a wealth of new data for biomedical researchers.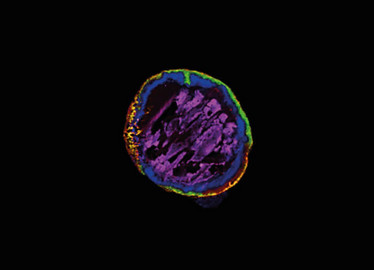 EYE ON THE FUTURE - MS imaging (MSI) allows us to analyze the spatial distribution of molecules in biological tissues. Produced by metabolomic MSI, this striking view of a mouse eye was measured with the rapifleX matrix assisted laser desorption/ionization (MALDI) Tissuetyper from Bruker at a spatial resolution of 15 μm. The iris and pupil are visible on the left of the image, and the different retinal layers can be seen in the bottom right. Credit: Saleh Khalil.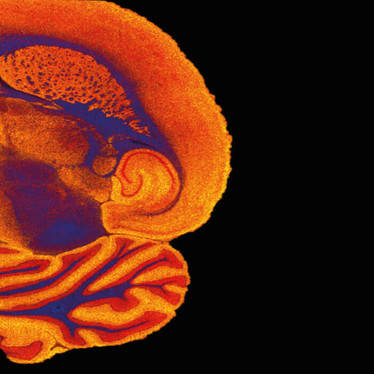 uMALDI ON THE BRAIN - In this MALDI-TOF image of a rat brain section, the distribution of three different lipids displays its fine structural details. The section was imaged using a Synapt G2-Si coupled to an innovative new source called uMALDI, which allows a lateral spatial resolution down to 15 μm. Using new WREnS software from Waters, the image was captured in continuous raster mode at a speed of 20 pixels per second (2). Credit: Florian Barré.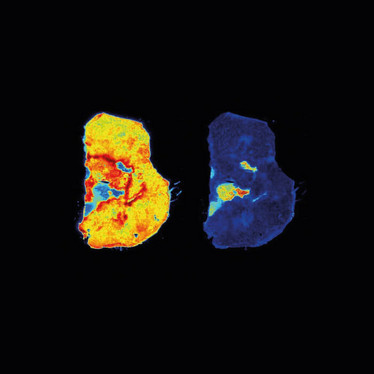 TAILORING TREATMENT - Diffuse large B-cell lymphoma is an aggressive disease – one third of patients are either resistant to initial therapy or relapse after treatment. With MALDI-MSI, we can differentiate between untreated and relapsed tumors via their lipid and metabolic profile, and reveal specific molecular signatures associated with intratumor heterogeneity. Here, you can see the heterogeneity within a treated tumor, showing both viable (left) and necrotic (right) tissue. The image was produced using an Orbitrap Elite hybrid ion trap mass spectrometer, at 30 μm spatial resolution (3). Credit: Florian Barré and Britt Claes.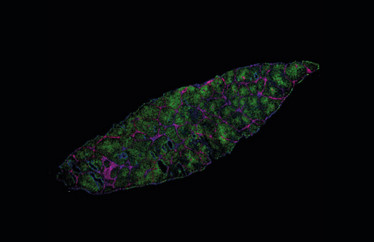 MAPPING METABOLITES - MALD-MSI maps the spatial distribution of metabolites within liver tissue. The specific localization of certain bio-molecules highlights histopathological structures, including the hepatic lobules in green, the connective tissue in pink, and the portal triad that consists of bile duct, vein, and artery – all in blue. Credit: Klara Scupakova
Receive content, products, events as well as relevant industry updates from The Analytical Scientist and its sponsors.
B Flinders et al., "Cross-species molecular imaging of bile salts and lipids in liver: identification of molecular structural markers in health and disease", Anal Chem, 90, 11835–11846 (2018). DOI: 10.1021/acs.analchem.8b01378.
F Barré et al., "Fast raster matrix-assisted laser desorption/ionization mass spectrometry imaging of lipids at high lateral resolution", Int J Mass Spectrom, 437, 38–48 (2018). DOI: 10.1016/j.ijms.2018.09.015.
F Barré et al., "Specific lipid and metabolic profiles of R-CHOP-resistant diffuse large B-cell lymphoma elucidated by matrix-assisted laser desorption ionization mass spectrometry imaging and in vivo imaging", Anal Chem, 90, 14198–14206 (2018). DOI: 10.1021/acs.analchem.8b02910.