Techniques & Tools
Mass Spectrometry,
Proteomics
Diving Deeper into the Depths of the Proteome
With advancements in mass spectrometry technology, proteomics has opened the door to a new wealth of possibilities to evolve how we understand and treat diseases
| 5 min read
sponsored by SCIEX
Unlocking new perspectives on the proteome

Capturing the complexity of the proteome is not easy – especially across tens of thousands of proteins with never-ending variations in amino acid sequence and post-translational modifications. Despite the challenges, the proteomics field has made great strides in recent years – in areas ranging from single-cell analyses to high-throughput processing of hundreds, if not thousands, of samples in the same day. Technological advances continue to open new doors and innovation does not seem to be slowing down. For instance, in the sample collection and preparation stages of plasma, tissues or single cells, the research community has seen advances in labeling techniques and robotics that allow automation of the entire process. Another example exists at the sample inlet – which usually involves liquid chromatography – where increasingly high-throughput proteomics is being made possible by "locked-down" systems (defined gradients and methods) that ensure workflow consistency across multiple labs.
One of the most rapidly evolving technologies for proteomics researchers is mass spectrometry (MS). "We have seen improvements in sensitivity, dynamic range and ease of use through changes to the overall workflow and the data independent acquisition (DIA) approaches," says Jose Castro-Perez, Senior Director of Market Development at SCIEX. "These advances are often paired with new software tools that deal with complex data sets using artificial intelligence. In short, researchers can dig even deeper into the proteome."
In the pursuit of progress in the proteomics field, SCIEX launched the ZenoTOF 7600 system, a quadrupole time-of-flight (QTOF) mass spectrometer, in 2021, which offered new fragmentation capabilities and increased sensitivity levels. The ZenoTOF 7600 system was ranked first in The Analytical Scientist's 2021 Innovation Awards for "huge leaps" in speed and sensitivity. SCIEX achieved this through a new trap and release setup. At the end of the collision cell, ions are trapped in the Zeno trap, a short linear ion trap; voltages are then applied, causing the ions to be released so that lower m/z ions entering the TOF accelerator catch up with heavier ions at higher m/z. This process allows all ions to meet before being pushed into the TOF extraction region. The result is a substantial gain in sensitivity (≥90% duty cycle) without losing mass resolution or accuracy, leading to improvements in MS/MS spectral quality. In addition, the new electron activation dissociation (EAD) technology offers an alternative, reagent-free fragmentation strategy, which preserves labile modifications.
"The ZenoTOF 7600 system can quantify up to 40 percent more proteins and analyze samples five times faster for large biobank studies," says Casto-Perez. "Moreover, EAD fragmentation is allowing researchers to better understand how proteins are post-translationally modified – an important but challenging area in biomarker research."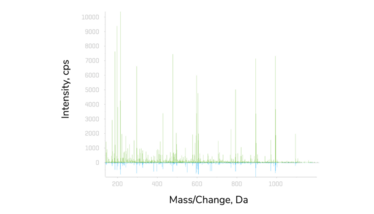 Exploring the depths of the unknown, faster

When scientists speak about their proteomics needs and what they desire from innovative technologies, sensitivity and throughput come first. Researchers want to integrate new and deeper levels of the proteome, while running several samples simultaneously – without sacrificing protein load. And that is where another MS-based technique comes into its own: data independent acquisition mass spectrometry (DIA-MS).
DIA-MS has recently received a great deal of attention because it allows researchers to conduct analyses without any prior knowledge of the sample in question (1,2,3). The method can be set up if the required mass range is known. At the same time, the mass of a given precursor will be recorded with greater selectivity across the entire mass range. The straightforwardness of the setup, as well as a high degree of accuracy and high-throughput multiplexing capabilities, makes DIA a good fit for proteomic applications.
Considering all these points, SCIEX recenly launched Zeno SWATH DIA. They have managed to reduce runtimes by more than half – from 60-minute gradients down to 30- or even 20-minute gradients, without seeing a drop in the performance of the mass spectrometry system. "In essence, Zeno SWATH DIA provides researchers with an even simpler workflow that allows them to detect and quantify more proteins than ever before, maximizing the amount of information extracted from the samples," says Castro-Perez.
Exploring next-generation proteomics to advance drug discovery and precision medicine

These gains in sensitivity and throughput empower researchers to investigate new outcomes for proteomics research.
Single-cell workflows, for example, are on the rise in the research community. Although present in quantities an order of magnitude greater than mRNA, cellular proteins cannot be amplified. However, the sensitivity of the ZenoTOF 7600 system, combined with Zeno SWATH DIA, can help overcome this challenge and allow researchers to unlock samples with more limited cellular protein content. The advances could significantly impact drug discovery – especially in cancer research, where there is a great degree of heterogeneity across different cell types. By delving deeper into the proteomic profile of individual cancer cells, scientists may understand, in greater detail, how certain drugs exert their effect by modifying the proteome. Such knowledge could be especially valuable for personalized medicines, including cell and gene therapies. If researchers know how drugs work within individual patients, physicians may be able to tailor treatments based on the patient's response to therapy. MS-enabled proteomics will be an attractive complementary technique to RNA sequencing by offering a previously unavailable layer of information.
Single-cell proteomics could also enable new advances in our understanding of cell differentiation and evolution, and it could accelerate biomarker discovery for disease diagnosis and prognosis.
"I am confident that the latest iteration of the Zeno trap will be genuinely transformational across many application areas," says Casto-Perez. "Zeno SWATH DIA will enable researchers to identify increasingly large numbers of proteins expressed within a greater number of individual cells, with higher sensitivity, accuracy and speed. This will help them apply proteomics analysis to application areas previously thought impossible."
For more information, visit sciex.com/ZenoSWATHDIA
Receive content, products, events as well as relevant industry updates from The Analytical Scientist and its sponsors.
L Kransy and PH Huang, "Data-independent acquisition mass spectrometry (DIA-MS) for proteomic applications in oncology," Mol Omics, 17, 29-42 (2021). DOI: 10.1039/D0MO00072H
KW Li et al., "Recent Developments in Data Independent Acquisition (DIA) Mass Spectrometry: Application of Quantitative Analysis of the Brain Proteome," Front Mol Neurosci (2020). DOI:10.3389/fnmol.2020.564446
Evosep Biosystems, LinkedIn Poll (2022)